Rob Riggle To Play Frank West In 'Dead Rising: Watchtower'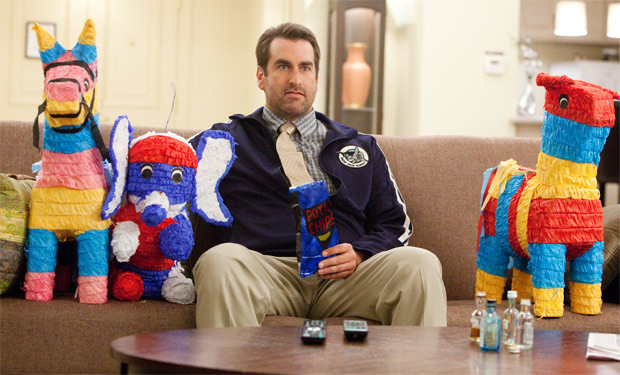 Legendary's Dead Rising: Watchtower continues to cast up. Rob Riggle has just been added to the zombie video game adaptation in a major role, along with Aleks Paunovic (This Means War) and Harley Morenstein (Tusk).
The trio join previously cast stars stars Jesse Metcalfe, Dennis Haysbert, Meghan Ory, Virginia Madsen, and Keegan Conner Tracey. Zach Lipovsky is directing and Lorenzo di Bonaventura is executive producing. Hit the jump for more information on the latest Dead Rising casting, including character details.
Riggle seems like a solid choice to play Frank West considering that, yes, he actually has covered wars. As a Daily Show correspondent, he reported from Iraq. Previously, he also served in Afghanistan as an officer in the United States Marine Corps.
Paunovic plays Logan, the hardened criminal at the head of a biker gang, and Morenstein is Pyro, another biker and Logan's second-in-command. Tracey, whose casting was first announced last month, will play a straight-laced journalist named Jordan.
Tim Carter wrote the Dead Rising: Watchtower script. The official synopsis reads as follows:
Dead Rising: Watchtower takes place during a large-scale zombie outbreak. When a mandatory government vaccine fails to stop the infection from spreading, the four leads must evade infection while also pursuing the root of the epidemic, with all signs pointing to a government conspiracy. Politics, public paranoia, and media coverage play an important role in the story's narrative.
Dead Rising: Watchtower is the first release from Legendary's Digital Media division. It'll premiere exclusively on Crackle in the U.S. in its full-length feature form. Afterward, it'll get a multi-platform release on SVOD, VOD, DVD, and TV, in both feature-length and episodic formats.