'The Comeback' Season 2 Trailer: Valerie Cherish Comes To HBO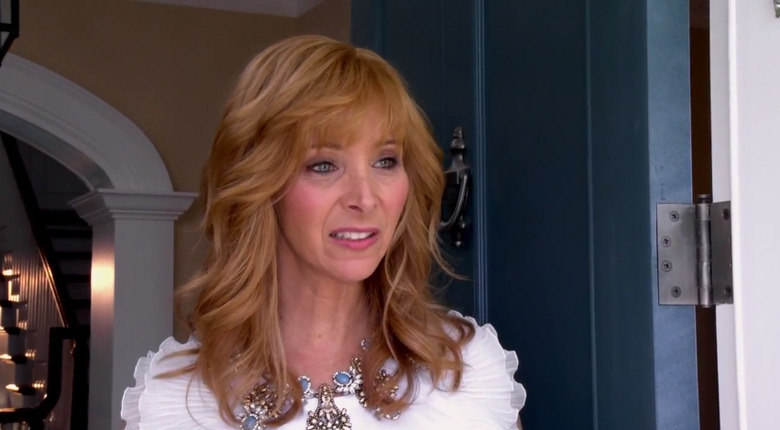 HBO's The Comeback is preparing to come back. The brilliant-but-cancelled TV series returns for its second season in just a few weeks, nine years after it was originally cancelled.
Lisa Kudrow returns as Valerie Cherish, the former star of a '90s sitcom. In Season 1, she staged a comeback with a supoprting role in a network sitcom called Room and Bored, where she was routinely tormented by a writer named Paulie G. (Lance Barber). In Season 2, she comes to HBO to star in Paulie G.'s new show Seeing Red, about his time on Room and Bored.
Essentially, this means Valerie Cherish is starring as herself — which means Kudrow is now a sitcom actress playing a sitcom actress playing a sitcom actress. The layers of meta, they are thick. Watch The Comeback Season 2 trailer after the jump.
Just as The Comeback Season 1 did, The Comeback Season 2 will reflect the current television landscape. "What's happening in television right now are dramedies being listed as comedies but maybe they're not funny, movie stars doing limited series, behind the scenes footage for social media and web content... there's a lot of the real thing within our fantasy, because that's what we did last time," co-creator Michael Patrick King told EW last month
And also just like in the last season, Valerie remains hopelessly out of touch. "She has a vlog. She knows what tweeting is because she's watched Housewives, and she's pretty proud of her unimpressive number of followers. But she still doesn't know what anything means," said Kudrow.
Among the actors set to return are Malin Akerman as Juna, now a big movie star; Kellan Lutz as Chris, now an action hero; Dan Bucatinsky as publicist Billy; Robert Michael Morris as hairstylist Mickey; Damian Young as husband Mark; and Laura Silverman as producer Jane. New stars include Seth Rogen, who plays the Paulie G. character on Seeing Red.
The Comeback Season 2 premieres November 9.