'The Simpsons' Parody Stanley Kubrick In 'A Clockwork Yellow'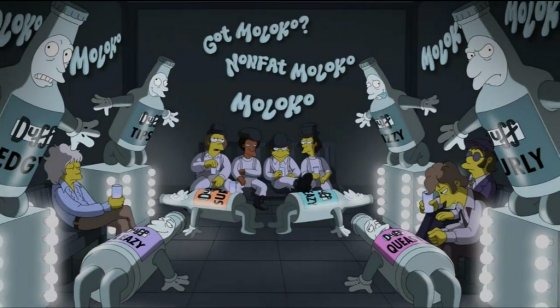 Sunday on Twitter, former Simpsons consultant Brad Bird said "In The Simpsons universe, Christmas comes at Halloween; all stops are pulled, budgets are increased, no holds are barred." He was referring to the show's annual Treehouse of Horror event, which celebrated its 25th anniversary on Sunday. The highlight of the show's three segments (all of which were pretty fantastic) was A Clockwork Yellow. The story reimagined Moe, Homer, Lenny and Carl as Alex and his droogs from Stanley Kubrick's A Clockwork Orange. It borrowed dialogue, settings, shots, and music; in the story things get weird, and eventually just nosedive down a Kubrickian rabbit hole. It's a much-watch for fans of The Simpsons and Kubrick alike.
Today, the full episode of Treehouse of Horror XXV is available on Hulu Plus at this link. You can't watch it for free for another eight days (so on October 27). But here's a brief tease of The Simpsons Clockwork Orange.
And here are some images via Vulture:
Also in the episode, you'll see The Simpsons in a variety of very familiar reincarnations in the third segment called "The Others." It's a pop culture cornucopia. Thanks to ScreenCrush for the video.
And another side note, if you liked A Clockwork Yellow, The Simpsons Tapped Out offered Moe's droog outfit in an awesome tie-in.
Finally, FXX is running a 12 hour marathon of The Simpsons Treehouse of Horror episodes this Sunday. It won't include this latest one (as FXX won't be reairing the latest season as it happens) but there is still plenty of awesome material in there. There's even some Kubrick. Wou could forget The Shinning? (Apologies for this terrible video).
The Simpsons, which is currently in its 26th season, airs on Sunday nights on Fox at 8 p.m. EST. You can rewatch episodes on Hulu at this link.