Cool Stuff: First Posters From Mondo's 'Batman 75' Gallery Show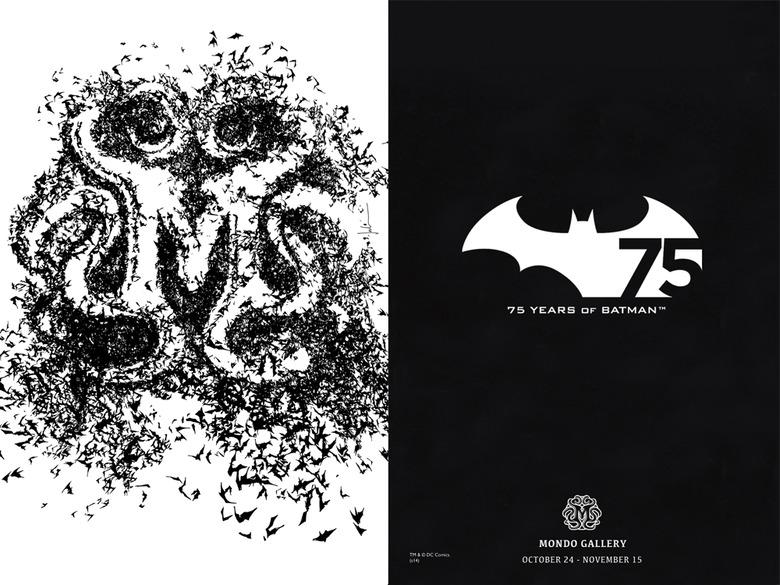 Have you ever heard of this character Batman? I hear he's pretty popular. They've made a few movies about him, a few TV shows, and apparently a few comic books. 2014 is the 75th anniversary of this incredibly obscure, niche character, which apparently is why the team at Mondo is doing a full gallery show of original art and posters based on him and his gallery of characters.
75 Years of Batman opens Friday October 24 at the Mondo Gallery in Austin, Texas and the first batch of art has been revealed. There are some heavy hitters here: Kevin Tong, Tom Whalen, Craig Drake, Phantom City Creative, Alex Pardee, Scott C., Jason Edmiston and this is just the first wave. Check out the Mondo Batman posters below.
Mondo premiered these posters on Mashable. Mouse over each for the artist name.
These are all prints except the one from Scott C, which is a watercolor. Head to Mashable for the specifics.
Also, Kevin Tong posted two detail shots of his posters on his Instagram. Awesome stuff.
The show opens October 24 and remains on display through November 15. It's located at 4115 Guadalupe St. Austin TX 78751. It's open Tuesday – Saturday, 12PM – 6PM (and by appointment).