'Game Of Thrones' Star Maisie Williams Teases New Superhero Project And 'The Last Of Us'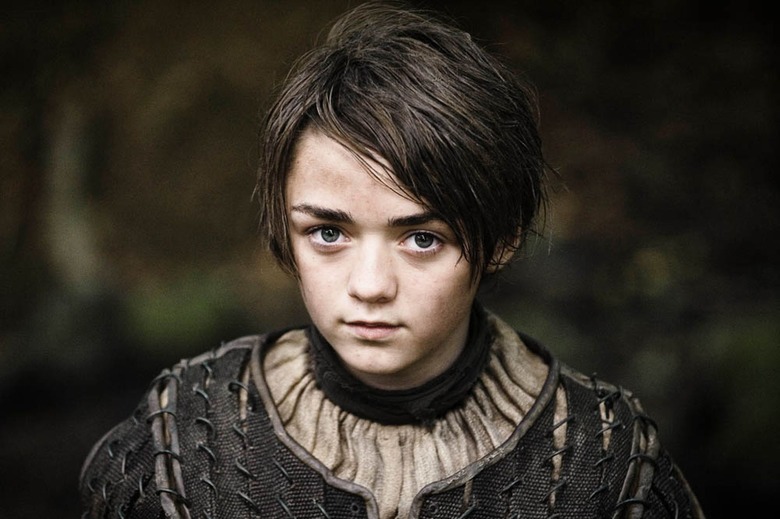 I'm a fan of HBO's Game of Thrones and always think Arya Stark, played by Maisie Williams, is one of the highlights. But it wasn't until this year's San Diego Comic-Con that I realized just how many other people share that sentiment. Williams was one of the top five most celebrated actors at Comic Con. I'm talking Robert Downey Jr. levels of excitement and screams when she took the stage. And though her role on Thrones will continue, she's beginning to capitalize on that popularity with some potentially much bigger roles.
In a new interview, Williams talked about the possibility of her playing Ellie in a Last of Us movie produced by Sam Raimi, as well as a new, mystery, superhero project she likened to Kick-Ass. Read the Maisie Williams movie quotes below.
Williams talked about both projects in an extended interview with Flicks in the City. She's promoting a new film called The Falling. Here's the video. The appropriate quotes are below that, courtesy of Coming Soon.
Here's the quote on The Last of Us:
I had a lunch a little while ago and we spoke about the possibility of me playing Ellie. That's really exciting and I would absolutely love to. It kind of all came about on Twitter a long time ago. The power of Twitter still never ceases to amaze me. I went to a lunch and we spoke a little bit about it, and then they announced at Comic-Con that we had spoken about it, and since then in like every interview people have been asking me about it. Honestly I would love to and I think they would love me to play Ellie also, and that's where it is at the moment. There's no script, no director, it's still very early days for the whole project, but if it all goes ahead soon enough I think, yeah, I would love to.
So it sounds like not much has changed there since July. Now what about this mysterious superhero project?
There's not much I can talk about, but there's actually been a very exciting project and a very exciting group of people who have approached me about a new series. I can't say the title, I'm not saying anything about it, but it's in that sort of superhero vein, in the same vein as Kick-Ass where the superhero is not super and just has great intentions. That would not be happening yet, it would be happening in a few years, but something that we've been in talks about for a little while and I'm really, really, really excited about it... it was going to originally be written as a graphic novel, it's not based on anything. It was kind of inspired just from walking around Comic-Con and seeing so many woman dressed as all these sexualized female superheroes and just thinking if I was a superhero, I would just want to wear a hoodie and jeans, and taking that and making it into a superhero that isn't wearing spandex and isn't a sexy Catwoman or that sort of thing.
It sounds like something she's developing on her own from her own ideas, does it not? Either way, she admits it's not a full-fledged idea just yet and would be a few years out.