CBS Starts Its Own Streaming Service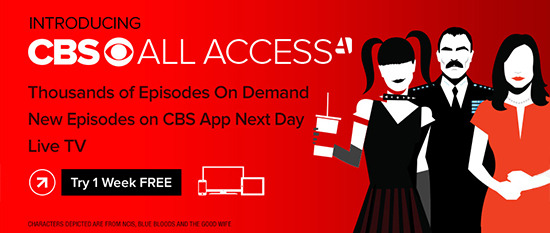 Just in time to really get cord-cutters excited after this week's news of HBO's plan to offer internet-only subscriptions, CBS is launching its own all-access digital service. In fact, the project is called CBS All Access, and it launches today at CBS.com and via iOS and Android apps. Pricing info and more details are below.
CBS CEO Les Moonves said a bunch of jargon-y, business-type stuff,
CBS All Access is another key step in the company's long-standing strategy of monetizing our local and national content in the ways that viewers want it. This new subscription service will deliver the most of CBS to our biggest fans while being additive to the overall ecosystem. Across the board, we continue to capitalize on technological advances that help consumers engage with our world-class programming, and we look forward to serving our viewers in this new and exciting way.
Yeah, ok, so what's the bottom line? Subscription is $5.99 per month, with access to full seasons of 15 primetime shows the day after they air; and currently past seasons of eight series. (The Good Wife, Blue Bloods, and Survivor are in that list.);
More important, there's ad-free access to more than 5,000 episodes of classic series such as Star Trek, Cheers, MacGyver, Twin Peaks, and CSI: Miami. Streaming versions of special broadcasts like the Grammys will have additional content, and the service will stream Big Brother live when it returns in 2015.
The big attraction there is the ad-free offer, which competes against Hulu pretty nicely. And while you may not be interested in the CBS offerings, or perhaps already have access to all the stuff you want, this could prove to be a provocation that sets other companies in motion with their own service. Having this and HBO hit within days of one another is not a minor turn of events.