There Won't Be A 'How To Train Your Dragon 4', Says Director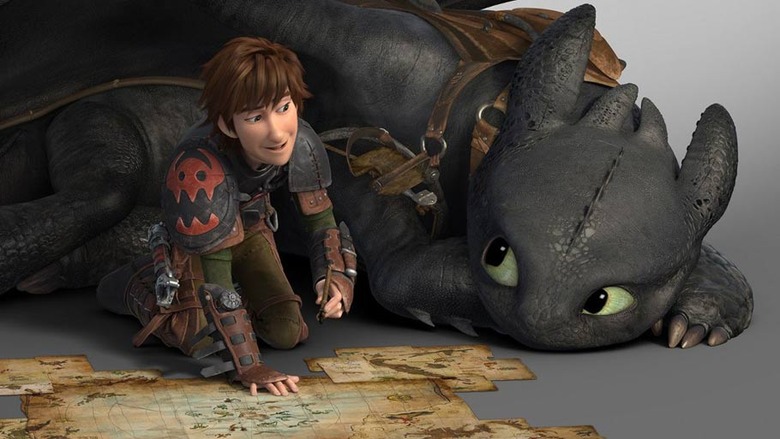 Actually completing a tale shouldn't feel like a bold choice. But in an era when every major studio effort seems to be made with not just a sequel but an entire Marvel-style universe in mind, true endings are rarer than they should be. Instead, we get plot threads left dangling for installments on end, epilogues awkwardly tacked on at the last minute, and single stories split into two or three pieces.
So kudos to How to Train Your Dragon director Dean DeBlois for sticking with his three-film plan. While DreamWorks Animation head Jeffrey Katzenberg has hinted at the possibility of a How to Train Your Dragon 4, it seems DeBlois is sticking to his guns. Although he says spinoffs aren't out of the question. Hit the jump for DeBlois' comments.
Collider recently got a status update from DeBlois on How to Train Your Dragon 3.
Just this past Thursday I presented the outline for the film and I'm gonna take a two week break, but after that I'll be working on the screenplay and hopefully turning the first draft in by the end of the year. So all is going well. It continues to be the third act of this trilogy and we get to see Hiccup's coming of age come to a completion.
The outlet also asked about the rumored How to Train Your Dragon 4, and got a pretty firm answer in response:
I think I've talked [Jeffrey Katzenberg] down from that (laughs). There may be spinoffs to come, but my involvement and my dedication to completing a story that has a reason for being and a strong sense of integrity and three chapters I think is in place and intact. Everybody seems to be in agreement that we're moving in the right direction.
DeBlois' comment about spinoffs may seem like a concession at first glance, but that's not the same thing as a direct sequel. If DreamWorks wants to continue the franchise with a new story about a different character, so be it, but it's great to hear DeBlois will actually get to finish Hiccup and Toothless' journey instead of padding it out until diminishing box office returns do it for them.
Stopping at three actually gives him more freedom in some ways, since he won't be forced to maintain the status quo. He can drastically alter the setting or kill off characters without worrying about what implications that'll have for the next five sequels. And it seems he's taking advantage of that flexibility, based on what he's teasing for How to Train Your Dragon 3. (Note that some spoilers follow, if the premise of a movie can be considered a spoiler.)
I'm also playing with the idea of what happened to the dragons and why they are no more, as suggested by Cressida Cowell's books. So the whole mystery of where did they go? Did they come back? What transpired? I think it's all compelling stuff and it's definitely a story that's gonna have a lot more Toothless emphasis in it. We continue to get more insight into the dragon world and shed light on their intelligence and all the aspects that we've been slowly cooking over the last two films.
Assuming all goes according to plan, How to Train Your Dragon 3 will close out the trilogy on June 9, 2017.