'Unbroken' Trailer: Jack O'Connell Won't Give Up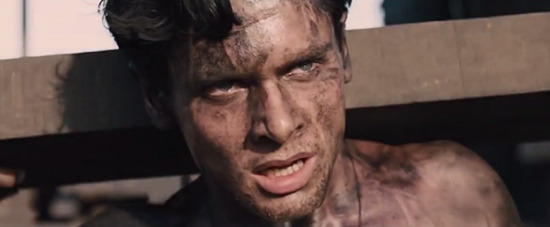 Angelina Jolie takes her second turn as director with Unbroken, which adapts the book by Laura Hillenbrand to tell the story of Olympic competitor and WWII hero Louis Zamperini (Jack O'Connell). The film's first trailer focused quite a bit on Zamperini's upbringing, but this new Unbroken trailer focuses primarily on the war and its aftermath, during which Zamperini and two other Air Force crewmen survived the crash of their plane, only to be picked up by the Japanese Navy.
Transferred through a set of Japanese POW camps, Zamperini and Russel Allen Phillips were held captive from 1943 until the end of the war in 1945, during which time they experienced horrific treatment, some of which is seen briefly in this trailer.
Unbroken opens on Christmas Day in the US. Trailer via Universal.
The cast also includes Domhnall Gleeson, Finn Wittrock, Garrett Hedlund, Jai Courtney and Japanese actor Miyavi, making his English-language debut.
Academy Award® winner Angelina Jolie directs and produces Unbroken, an epic drama that follows the incredible life of Olympian and war hero Louis "Louie" Zamperini (Jack O'Connell) who, along with two other crewmen, survived in a raft for 47 days after a near-fatal plane crash in WWII—only to be caught by the Japanese Navy and sent to a prisoner-of-war camp. Adapted from Laura Hillenbrand's ("Seabiscuit: An American Legend") enormously popular book, Unbroken brings to the big screen Zamperini's unbelievable and inspiring true story about the resilient power of the human spirit.