A District Is Shattered In 'The Hunger Games: Mockingjay, Part 1' Teaser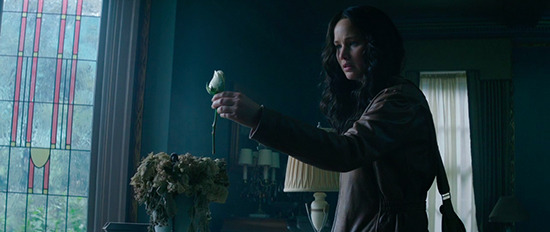 In The Hunger Games: Mockingjay, Part 1 things are looking like they're going from bad to worse for Katniss. The character played by Jennifer Lawrence endured a second round of Games in the last film, but now she has to face the wrath of rulers in The Capitol who won't stand for even a spark of rebellion to float through the grey haze they call society. And so preventative action has been taken, and in this new Mockingjay Part 1 teaser Katniss is forced to confront it.
Compared to the first trailer this is far more somber, and uses almost entirely new footage. Watch after the jump.
The trailer was posted on Twitter.
@EW, @TheHungerGames exclusive content is now unlocked! https://t.co/CfxQ2FDSj3

— The Hunger Games 🔥 (@TheHungerGames) October 15, 2014
The Hunger Games: Mockingjay, Part 1 opens on November 21.
The worldwide phenomenon of The Hunger Games continues to set the world on fire with The Hunger Games: Mockingjay – Part 1, which finds Katniss Everdeen (Jennifer Lawrence) in District 13 after she literally shatters the games forever. Under the leadership of President Coin (Julianne Moore) and the advice of her trusted friends, Katniss spreads her wings as she fights to save Peeta (Josh Hutcherson) and a nation moved by her courage. The Hunger Games: Mockingjay – Part 1 is directed by Francis Lawrence from a screenplay by Danny Strong and Peter Craig and produced by Nina Jacobson's Color Force in tandem with producer Jon Kilik. The novel on which the film is based is the third in a trilogy written by Suzanne Collins that has over 65 million copies in print in the U.S. alone. Lionsgate presents, a Color Force / Lionsgate production, a Francis Lawrence film.