Christian Bale Bails On Steve Jobs Movie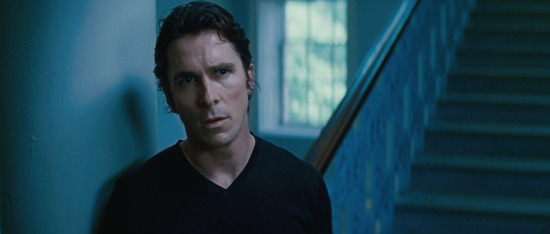 Update: Christian Bale has pulled out of Danny Boyle's Steve Jobs movie. THR reports "Sources say Bale, after much deliberation and conflicting feelings, came to the conclusion he was not right for the part and decided to withdraw." Seth Rogen is in talks to play Apple co-counder Steve Wozniak, but with Bale out of the picture the film's casting could change dramatically.
Screenwriter Aaron Sorkin has said that the lead actor in the film will be in every frame of the movie, which makes this a very demanding project for any actor. We'll report on the new choice for the lead when that information becomes available. Boyle is reportedly in Los Angeles this week to meet with actors, so casting may be reported within days. Our original story on casting the film follows. 
Original story:
David Fincher was attached to make the Steve Jobs film scripted by Aaron Sorkin, and he wanted Christian Bale to star. Fincher eventually dropped out, and Bale was never signed to play the lead role. Danny Boyle came on to direct and set his sights on Leonardo DiCaprio. But that starring deal never got signed, and now Boyle has turned back to Bale. Sony is in talks with Christian Bale to star in the Steve Jobs movie, and that is part of a new wrinkle for another film Bale has been attached to in the past few months.
THR reports that Sony and Boyle have gone back to Bale after talks stalled with DiCaprio.
Where it gets interesting is that Bale was near a deal to star in The Deep Blue Good-by for director James Mangold. But Fox wanted Bale to sign a contract that featured sequel provisions. The studio has plans to turn that first Travis McGee novel adaptation into a franchise opener. Having already been locked into one franchise for a few years, Bale balked at that contract.
Now, assuming he signs the Jobs deal, the Apple movie will shoot first. There's still the possibility that Fox will get Bale to sign to do The Deep Blue Good-by as a standalone film, but even if that happens he'll do Jobs first. There are many Travis McGee novels, in which the character progressively ages as the time period of each book reflects the time of its publication. There was little chance Fox would get any established actor to sign for enough films to properly mirror the progression of the novels. They'll probably just have to take what they can get with Bale.
Meanwhile, this Jobs film is based on the Aaron Sorkin script based on the best-selling Steve Jobs biography by Walter Isaacson. reports say the script focuses on three specific points in Jobs' life, all oriented around high-profile product debuts. In late 2012 the script featured three half-hour real-time sequences set in 1984, at the launch of the first Macintosh; in 1988 with the launch of Jobs' first post-Apple product the NeXT; and in 2001 for the debut of the iPod.