'Foxcatcher' Trailer: Steve Carell Has Great Power Over Channing Tatum's Life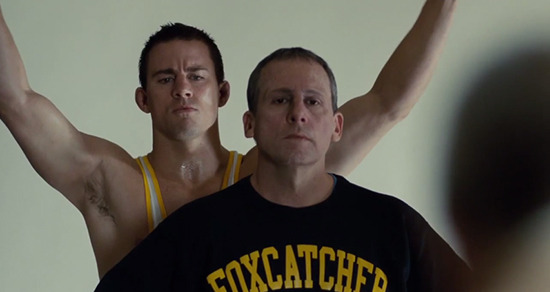 Here's a new trailer for Bennett Miller's new film Foxcatcher before it hits theaters in November. Previous looks at the film have been brief, and little more than shadowy glimpses at the story of a rich man (Steve Carell) who opens a state of the art facility in a bid to train wrestlers for the US Olympic team. This time we get just a bit more story as we see a young wrestling hopeful (Channing Tatum) ally himself with Carell's potentially unstable character in order to step out from the shadow of the success of his older brother (Mark Ruffalo). Check out what could be the final Foxcatcher trailer below.
Generally speaking, I like the many teasers we've seen for the film more than this full trailer approach. These two primary characters seem so broken, and so ready to destroy themselves and each other, that the short teaser works really well to sell the movie. But this highlights each performance just a bit more, and with a lead trio such as the one Miller has assembled for Foxcatcher, that isn't a bad thing.
Foxcatcher opens on November 14. Trailer via Yahoo.
FOXCATCHER is a psychological drama directed by Academy Award nominee Bennett Miller (MONEYBALL) and starring Golden Globe winner Steve Carell, Channing Tatum, Academy Award nominee Mark Ruffalo, Academy Award winner Vanessa Redgrave and Sienna Miller. The film was written by E. Max Frye and Academy Award nominee Dan Futterman. FOXCATCHER tells the story of Olympic Gold Medal-winning wrestler Mark Schultz (Tatum), who sees a way out from the shadow of his more celebrated wrestling brother Dave (Ruffalo) and a life of poverty when he is summoned by eccentric multi-millionaire John du Pont (Carell) to move onto his estate and train for the 1988 Seoul Olympics. Desperate to gain the respect of his disapproving mother, du Pont begins "coaching" a world-class athletic team and, in the process, lures Mark into dangerous habits, breaks his confidence and drives him into a self-destructive spiral. Based on actual events, FOXCATCHER is a gripping and profoundly American story of fragile men who pinned their hopes for love and redemption on a desperate obsession for greatness that was to end in tragedy.