Lena Dunham Writing And Maybe Directing 'Catherine, Called Birdy'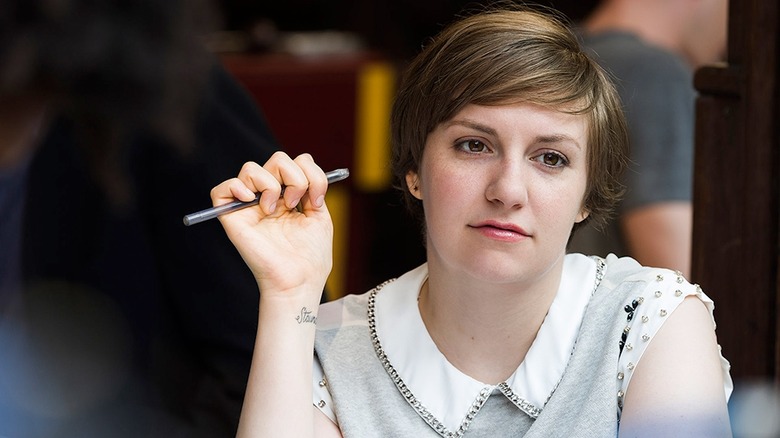 Between Tiny Furniture and Girls, Lena Dunham has made her name chronicling the very specific experiences of 20somethings in modern-day New York. But now she's taking those skills to an entirely different era.
Dunahm is set to write and possibly direct Catherine, Called Birdy, an adaptation of the award-winning YA novel by Karen Cushman. The story follows a 14-year-old girl in Medieval England avoiding marriage to an unattractive suitor. Hit the jump for more details on the Lena Dunham Catherine Called Birdy movie.
Dunham described the Catherine, Called Birdy plot as follows:
[She] gets her period and her father basically says, 'Well, it's time for you to get married,' and she's like, 'Uh, no.' But it's hyper realistic and really pretty and it's full of incest and beatings, but it's a child's story. I've been obsessed with it since I was a kid.
For more context, here's how the story is described on the book cover:
Catherine's mother wants to teach her the skills of the lady of the manor and to prepare her to be a gentle and patient wife. Her father wants only to see her married off, and profitably. Catherine herself hopes to become a painter, a Crusader, a maker of songs, a peddler, a minstrel, a monk, a wart charmer... Of all the possibilities, she has ruled out only one: being sold like cheese to the highest bidder.
Against a vivid background of everyday life on a medieval English manor, Catherine's earthy, spirited account of her fourteenth year is a richly entertaining story with an utterly unforgettable heroine.
At first glance, Catherine, Called Birdy seems like an unlikely project for Dunham. But like Girls, Catherine, Called Birdy has a realistic tone with a good sense of humor. And like the heroines of Girls, protagonist Catherine is a vivid personality determined to forge her own path in life, while avoiding the pitfalls of getting married to an awful man.