Sequel Bits: 'Star Trek 3,' 'Jurassic World,' London Has Fallen'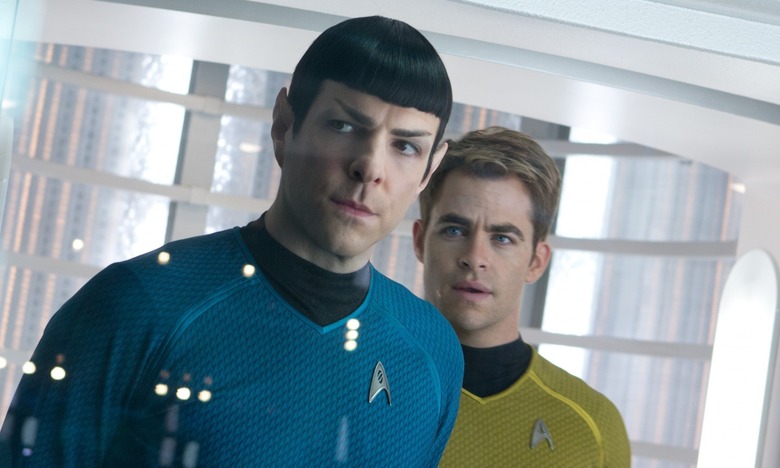 As some people doubt what writer turned producer turned director Roberto Orci will be able to do with Star Trek 3, the film's co-star John Cho is coming out in defense of his new director. Cho says Orci's work is "going to blow people away." In addition to the Star Trek 3 talk, we have info on the following items:
Toy collectors will be able to purchase Jurassic World Lego sets,
Jason Schwartzman explains how he ended up rumored for Jurassic World,
Hugh Grant bows out of Bridget Jones 3,
Katie Holmes returns to the role of Jackie O in new Kennedys mini-series, and will direct an episode,
Keanu Reeves has one more thing to say about Bill and Ted 3,
Tommy Wirkola suggests Hansel & Gretel 2 could have a plot involving voodoo,
And Jackie Earle Haley joins the cast of London Has Fallen.
In a Reddit AMA, John Cho declined to say anything too revealing about Star Trek 3. He did defend his director, saying,
I'm absolutely confident in Bob. No one knows these characters better than Bob. And no one knows theStar Trek universe better than Bob.
Roberto Orci co-wrote and produced the first two new Star Trek films, and is making his debut as director with the third. He also co-wrote the third film with J.D. Payne and Patrick McKay.
***
Jurassic World will be incarnated as LEGO, says Unviersal. In a press release (via Brickset), Universal Partnerships and Licensing president Stephanie Sperber said,
Jurassic Park defined dinosaurs for an entire generation 20 years ago, and Jurassic World will do the same in 2015. Working with LEGO Group to bring this classic into the present in dynamic and exciting ways is truly thrilling.
On the other side of Jurassic World, there are those old rumors that Jason Schwartzman would be in the new sequel. They have been proven false, but his explanation of how the rumor probably started is amusing. Screencrush asked the actor about those stories, and he said,
What happened was, my brother, John, shot that movie. And I think it was mis-reported that it was me. And, honestly, it was just so funny that that would happen. I've never been rumored for anything, so I started saying, "That's fun. I can't really comment because I don't really know what you're talking about, but it's fine, we can talk about it. I just don't have any answers." ... But, it was really just more about my brother shot it and I bet you it was just a misunderstanding.
***
In an interview with Free Radio in the Midlands (via the Telegraph) Hugh Grant says he won't be in Bridget Jones 3.
I decided not to do it. But I think they're going to go ahead and do it without Daniel. [Grant played Daniel Cleaver in the first two films.]  The book's excellent, by the way, but the script is completely different – well, the script as I last saw it a few years ago.
He's referring there to the fact that the script so far doesn't bear much similarity to the novel Mad About the Boy, which is Helen Fielding's third Bridget Jones novel. We don't even know the current status of the film, which may still be called Bridget Jones's Baby, with Peter Cattaneo set to direct.
***
Deadline reports that Katie Holmes will not merely reprise the role of Jackie O in the new The Kennedys – After Camelot mini-series, which follows up the 2011 The Kennedys. She will also exec produce the new series and direct one of the four episodes. (She's also directing her first feature.) Jon Cassar, who directed the eight original The Kennedys episodes, will helm the other three new episodes.
The show will be based on J. Randy Taraborrelli's book After Camelot: A Personal History of the Kennedy Family 1968 to the Present, with a script by Stephen Kronish. Production will begin in spring 2015; the four-hour miniseries will premiere on Reelz and Canada's Corus Entertainment in 2016.
***
We're getting a lot of quotes from Keanu Reeves about Bill and Ted 3 as he gets out to promote John Wick. We ran a bunch of stuff on the film earlier today. There's also this quote from a Reddit AMA, during which the actor was asked about an update on the film:
We are currently trying to...get the rights to the story, and get the go. And if that comes together, then maybe we'll get to tell the story!
***
Tommy Wirkola (Dead Snow, Hansel and Gretel: Witch Hunters) won't direct the second Hansel and Gretel film, but he is writing the script. He's also out promoting Dead Snow 2 (which he did direct) and was asked about the Hansel and Gretel sequel. Crave posed the question, but the writer/director only said, "I can only say there's voodoo involved." OK, actually, he did say a bit more.
The script is much more studio-friendly. That's the wrong word. I learned a lot of lessons on the first one, and even for an R-rated film there are things you can't put in a film that costs $65 million or whatever it was. And I understand that. There's a lot of money involved, but it was just a very frustrating experience at the time because I hadn't been through it before. So this time I wrote a script that embraces the R but the first Hansel & Gretel script was as crazy as the Dead Snow: Red Vs. Dead script originally. It was just a snip, a tear in a lot of places. So the script for number two is a little more round around the edges maybe.
Production on the film will have to wait until producers can work with Jeremy Renner's schedule. We haven't heard anything about the return of Gemma Arterton at this point.
***
The Olympus Has Fallen sequel London Has Fallen has faced a speed bump, as director Fredrik Bond was hired, then left the production shortly afterward over "creative differences." Now Babak Najafi (Easy Money II) will direct returning actors Gerard Butler, Aaron Eckhart, Morgan Freeman, Melissa Leo, Angela Bassett and Radha Mitchell.
This time, Butler's secret service agent must defuse a terrorist threat while overseas. As The Wrap tells it, "When he attends the British prime minister's funeral with the U.S. president (Eckhart) and Speaker of the House (Freeman), a deadly plot to kill powerful world leaders reveals itself."
Now Jackie Earle Haley has joined the cast as Deputy Chief Mason. At this pint we don't know any specifics about the role, or how it fits into the overall story. The London Has Fallen script is by Christian Gudegast, who wrote along with Olympus Has Fallen writers Creighton Rothenberger and Katrin Benedikt.