Keanu Reeves Explains 'Bill & Ted 3' Holdup, Reveals More Story Details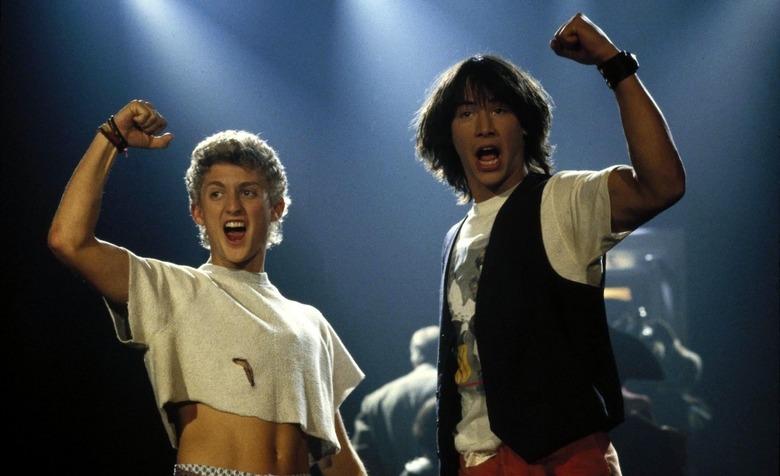 Over the years, the slow progress of Bill & Ted 3 has been blamed on everything from word getting out too early to high CG costs to an unspecified "darkness." But now, Keanu Reeves has offered a concrete reason why the film hasn't happened yet. As with so many other things in show business, it turns out, it comes down to money. Hit the jump to read the Keanu Reeves Bill and Ted 3 update.
We have to get the script in the right place. Chris [Matheson] and Ed [Solomon] have been working really hard over a couple of years to get the draft in the right place. What is the reason to make this movie besides nostalgia or the love of these characters. Where can they be in their life that can be a story that is worth telling or has something in it and is funny? They have that.
Then Reeves moves into a candid assessment of why the film hasn't moved forward.
It didn't help that the first script that they brought in was probably budgeted at $150 million dollars. I don't know if Bill & Ted carry that much weight. Part of the argument is that it's not that popular internationally, that's where so much of the funding for movies comes from these days. They've worked on the script and the budget, just trying to get the right script and then get the business side wrapped up, financiers and rights, all the show business stuff.
For comparison, The Hunger Games: Catching Fire cost $130 million and Captain America: The Winter Soldier cost $170 million — and those were guaranteed hits with international appeal.
We don't know what the current script is budgeted for. Presumably it's less than $150 million. But it's not tough to see why financiers initially balked. Bill & Ted 3 isn't even a sure win here, and comedy is notoriously difficult to translate overseas.
Reeves also spilled some new details about the plot, which centers around Ted Logan and Bill Preston, Esq. struggling to write the song that'll save the world.
The future comes back and says if you don't write the song by this certain time the universe is going to unravel and history and everything is going to change and dinosaurs are gonna walk the Earth. Jesus is playing baseball! All sorts of weird things start unraveling and wormholes are twisting. We have to kind of bring order back, and it's connected into bringing our families together by writing a song. [...]
I mean, it's edgy. There's a great scene where Bill and Ted are in jail and we're seeing our future us's and they're all tatted and hard. They're like, [tough sounding] "What's up, dude? Hey dude. Hey guy." "Stop calling me dude!" They want to beat up Bill and Ted because they've inherited the life that they f**ked up. They're miserable and they hate Bill and Ted. There's some funny stuff!
Well, maybe it's no wonder the script called for so much money. Jesus probably commands a pretty high salary.