'A Merry Friggin' Christmas' Trailer: Robin Williams And Joel McHale Try Not To Ruin The Holidays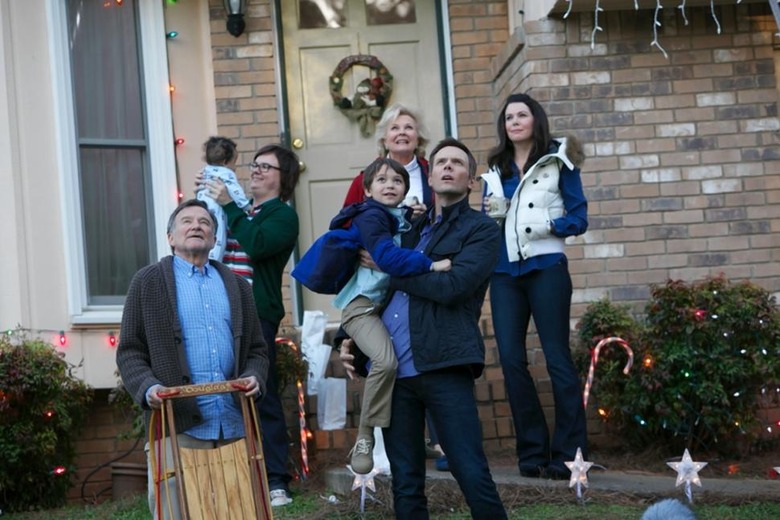 When Robin Williams passed away in August, he left four unreleased films behind. One of those was A Merry Friggin' Christmas, a holiday comedy starring Williams and Joel McHale.
As a performer, Williams could play anything from Patch Adams to The Angriest Man in Brooklyn. Mitch, his character in A Merry Friggin' Christmas, seems to fall toward the latter end of the spectrum. He's so unpleasant, in fact, that his son Boyd (McHale) has been actively avoiding him for years. But a series of events leads to the pair spending hours together on a frantic journey to save the holiday for Boyd's son. Hit the jump to see the A Merry Friggin Christmas trailer.
Entertainment Tonight debuted the A Merry Friggin Christmas trailer. While we've seen a few clips from the movie already, this is the first full-length trailer.
The first trailer isn't terrible, but it's also not as funny as you'd hope something involving a cast this good would be. In addition to Williams and McHale, A Merry Friggin' Christmas also stars Lauren Graham, Clark Duke, Wendi McLendon-Covey, Oliver Platt, Tim Heidecker, and Candice Bergen. Trophy Wife's Ryan Lee and Looper's Pierce Gagnon represent the younger generation.
A Merry Friggin' Christmas gets a day-and-date release (translation: it'll be in theaters and on Vimeo) on November 7. Williams' other upcoming releases include Night at the Museum: Secret of the Tomb (December 19), Absolutely Anything (2015), and Boulevard (TBA).
An American comedy starring Joel McHale, Lauren Graham and the late Robin Williams. Boyd Mitchler (McHale) and his family are forced to spend a dreaded Christmas at his parents' house with his eccentric father whom he has been avoiding for years. When he realizes that he left his son's gifts at home, Boyd and his father must hit the road in a blizzard to retrieve the gifts before sunrise to save Christmas.