Watch The 'Judge Dredd: Superfiend' Web Series In Full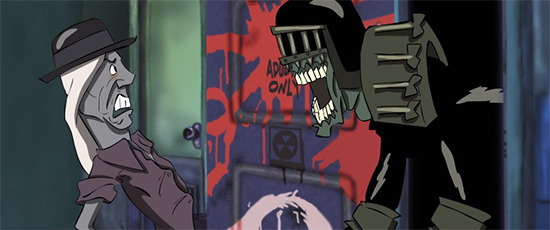 This has arrived quickly — from surprise announcement to trailer to full release, here's the 6-episode "bootleg" web series Judge Dredd: Superfiend. The show is from producer Adi Shankar and writing/directing siblings Luis Pelayo Junquera and Enol Junquera. It begins with the youth of the miscreant who grows up to be Judge Snyder, and traces the transformation into Judge Death, a being who considers life to be the ultimate crime. From there, Judge Dredd gets involved, and things get even more messy than they were to begin with.
This "Bootleg Universe" mini-series was made in the tradition of Saturday morning cartoons based on our favorite sci-fi comic book characters. The look was inspired by 90's MTV, "Ren & Stimpy," with a dash of "ReBoot" juxtaposed with the trademark violence found in everything I have done. Enjoy. This was made as a thank you to you the fans for supporting Dredd and making it a cult hit.
Lots of Love,  Adi Shankar
THIS MINI-SERIES IS NOT AFFILIATED WITH & HAS NOTHING TO DO WITH 2000 AD OR REBELLION. JUDGE DREDD(r) IS A REGISTERED TRADEMARK, (c) REBELLION A/S(r), ALL RIGHTS RESERVED. OH AND INCASE ANYONE HAD ANY DOUBT, JUDGE DREDD IS THE CREATION OF JOHN WAGNER AND CARLOS EZQUERRA.
Superfiend stars Marc Graue, Darin De Paul, Stephanie Sheh, Michelle Ruff, Jesse Snider, Roger Rose, and Jane Dashow. Via YouTube.