'Stretch' Red-Band Trailer: Try To Figure Out Who's Craziest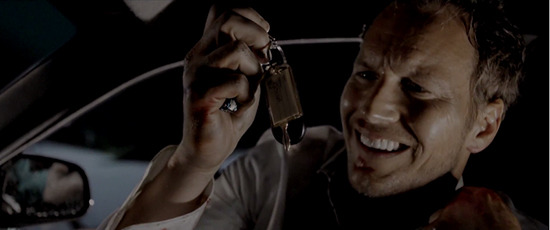 Often the release of a red-band trailer means that we're going to see way too much from a film that is still weeks from release. But in the case of this Stretch red-band trailer, it shows off stuff from a movie you can watch right now. Universal may have decided that Joe Carnahan's late-night whackadoo adventure wasn't a theatrical bet on which it wanted to gamble, but the movie is on digital outlets and VOD right now. So you can see Patrick Wilson as a limo driver, Chris Pine as a rich kook, Ed Helms as, well, a ghost, I guess, and a whole bunch of other people too.
This trailer embraces being adults-only; it's got violence, cursing, nudity, and a lot of weird stuff. It isn't safe for work, but it might just be as crazy as the film.
The song there is 'Love Missile F1-11 by Sigue Sigue Sputnik, probably best known for its use in Ferris Bueller's Day Off.
Stretch is now available on Amazon, iTunes, and VOD. Trailer via the official YouTube channel.
A hard-luck limo driver struggling to go straight and pay off a debt to his bookie takes on a job with a crazed passenger whose sought-after ledger implicates some seriously dangerous criminals.