Video: Star Wars Battle Pod Arcade Game Will Force You To Go Back To The Arcade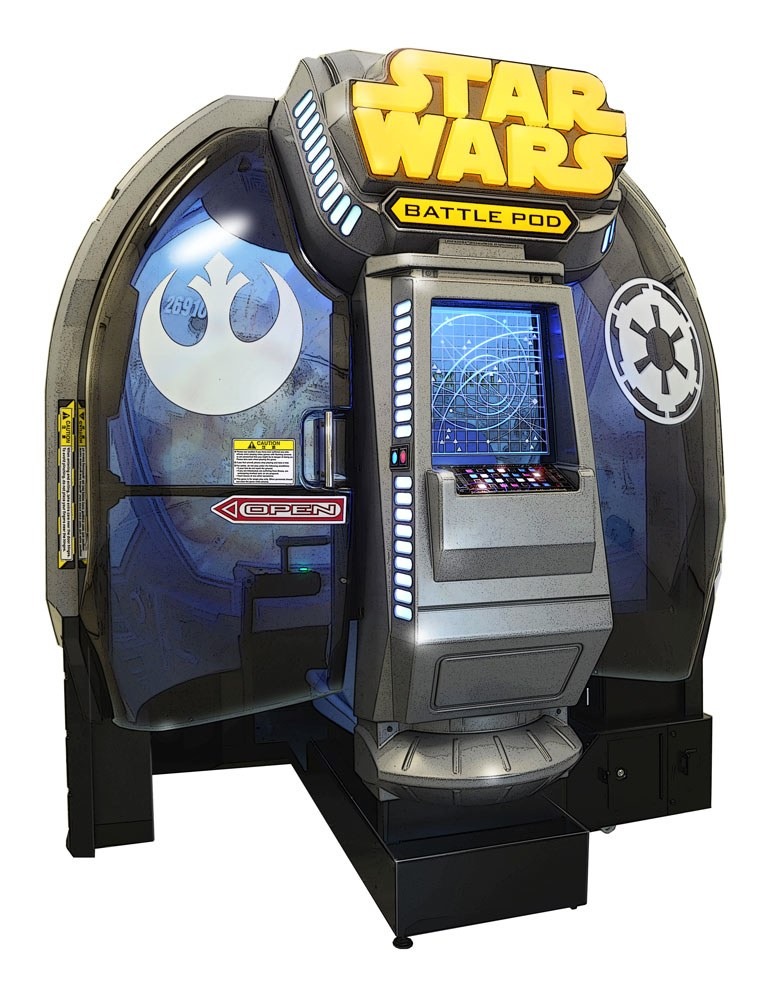 I mentioned the Star Wars Battle Pod arcade game in the last edition of Page 2, but now that we have video of the game in action, I think this is worth a stand-alone post. As far as I can tell, Star Wars Battle Pod is the first Star Wars arcade machine in 14 years (Sega released a podracing arcade machine called Star Wars: Racer Arcade in 2000 following the release of Star Wars Episode I: The Phantom Menace). Probably like many of you who grew up in the 1980's, I spent tons of quarters at the arcade (Fun n Games in Framingham, MA) on the original 1983 Star Wars arcade machine produced by Atari or (more so) 1993 Sega's Star Wars Arcade and the Star Wars Trilogy Arcade which was produced alongside the original trilogy special editions.
Now-a-days arcades are few and far between, but the Barcade revolution is playing upon nostalgia and giving arcade games a small renaissance.  So I was a little surprised when Bandai Namco Games announced they would be making a new Star Wars arcade machine. Star Wars Battle Pod made its debut in a preview during New York Comic Con and looks INCREDIBLE. After the jump you can see the trailer, some video of the new game in action and read some more information about the Star Wars Battle Pod arcade game.
Star Wars Battle Pod arcade gameplay video:
How awesome is that? After seeing the video, I can't express to you how excited I am to try this out. Much is currently being written about Oculus Rift and the VR headset revolution but one thing that most of the headsets can't do is peripheral vision. So I'm interested to see how it will feel to fly an X-Wing in the middle of an immersive dome screen. And if you want to check out some of the other game levels/modes, check out the trailer below:
Star Wars Battle Pod arcade game trailer:
The Star Wars Battle Pod arcade game features:
Arcade-exclusive gameplay on a unique dome screen enveloping your entire area of sight which enables "the player to be surrounded by gameplay images and experiences on the dome screen"
Expected to launch in the US in January 2015 " in participating arcades around the country" with a global launch to follow
Five stages that "recreate the fiercest battle scenes from the original Star Wars trilogy." Players will take command of the vehicles that appear in the films such as X-wings, snowspeeders, speederbikes, the Millennium Falcon and TIE Advanced. 
Loaded with features and unique gameplay elements, players can "experience the impact of the explosions and destruction that will leave them with a sense of actually piloting and taking part in action-packed scenes from the films."
Star Wars: Battle Pod offers a real sense of flight combat action and delivers an authentic flying experience as if players are actually sitting in the cockpit of a battle pod in the Star Wars universe.
Players can jump right in to true-to-film battles on Endor, Hoth, Death Star II, Yavin, and more
You can preview the Star Wars Battle Pod arcade game for yourself this week in New York City at Dave and Buster's in the Times Square location through the New York Comic-Con  (run, don't walk). For more details, images from the game and to learn more about availability worldwide, visit bandainamcogames.com.