Star Wars Bits: 'Episode VII' Star Pip Andersen Visits Imaginarium; 'Star Wars Rebels' Ratings And Rumors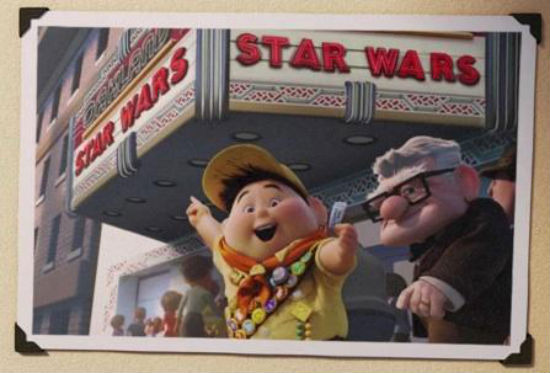 Star Wars Episode VII speculation, scenes, and cold, hard Star Wars Rebels facts highlight this edition of Star Wars Bits. Below, read the following:
Star Wars Episode VII star Pip Andersen made a visit to Andy Serkis' Imaginarium Studios.
Star Wars Rebels premiered Friday to 6.5 million viewers and is coming to New York Comic-Con.
Star Wars in Concert might be returning.
Simon Kinberg analyzed every moment of Star Wars Rebels for StarWars.com
Read a possible description of a hanger space in Star Wars Episode VII as well as a lightsaber showdown.
ABC will air an episode of Star Wars Rebels on October 26 with a new scene.
Read an excerpt from James Luceno's Star Wars novel Tarkin.
Watch a video of the Director of Music and Scoring at Skywalker Sound.
Header image: @Mousterpiece noticed that Pixar's Up, released in 2009, featured this image of the characters seeing Star Wars on the big screen. Episode III came out four years prior. Did they know something we didn't?
While Star Wars Episode VII stars John Boyega and Daisy Ridley have left Twitter, co-star Pip Andersen is still there. We have very little idea who he's playing though we know he was hired for his parkour abilities. Does that mean he's a Jedi? Maybe. However, he recently tweeted that visited Imaginarium Studios and demonstrated his "skills."
@piptrix was great to see your skills thanks for coming over!

— Imaginarium (@ImaginariumUK) October 7, 2014
The Imaginarium is a company specializing in performance capture so this raises a bunch of questions. Was he just there to visit fellow Star Wars star Andy Serkis, who co-founded the company? Was he performing a little demonstration? Or was he there to do full performance capture for a role? I'd guess, if he's tweeting about it, it's not revealing in any way but it's fun to speculate about. Making Star Wars has the info.
Star Wars Rebels is finally here and Disney announced that 6.5 million people watched the premiere over the weekend. You can read all the particulars on the ratings over at Variety. It'll continue in its regular time slot at 9 p.m. every Monday moving ahead.
Speaking of which, we'll be hearing more about what's planned for this first season at the Star Wars Rebels New York Comic-Con panel this weekend. More info on the official site.
With Star Wars ramping up to explode back in the public consciousness, the traveling show Star Wars in Concert might be returning. MintItBox.net (via SW Underworld) report show host Anthony Daniels (C-3PO) revealed this at a German comic book convention. If true, the official Star Wars website will surely let everyone know about locations and tickets when they're ready.
StarWars.com has a fantastic, in depth interview with Simon Kinberg talking about Star Wars Rebels. It's three parts but, as of press time, only the first two have been posted. Part one is about how he came aboard the show and developing and creating the characters. Part two goes almost scene by scene through the first episode, talking about inspirations and more. It's a great, great read.
Making Star Wars has reportedly seen concept art of a hanger in Star Wars Episode VII. I won't say which side it's for – Rebels, Imperial, other – but there are actual images of the space as well. Not a huge spoiler by any means, but, worth checking out. They also write about a potential scene in the movie with more than one lightsaber, some iconic imagery and more. This one is a little bigger of a spoiler if it's true.
This hasn't been announced officially, but a New York Times reporter took to Twitter to post this:
A fun little scooplet: Lucasfilm's #StarWarsRebels will re-air on ABC in primetime on Sunday Oct. 26 w/ new Darth Vader scene cc: @starwars

— Brooks Barnes (@brooksbarnesNYT) October 6, 2014
He also asked if James Earl Jones would be providing the voice, but didn't get a response. Pretty exciting stuff if true. Thanks to The Force.net.
An excerpt from the novel Tarkin by James Luceno has hit the net via Del Ray Books and Jedi News. It's not super long, so you can head to those links to read it. A nice little tease for the book which hits shelves November 4.
The Soundworks Collection uploaded a video showing off the amazing job Leslie Ann Jones, the Director of Music and Scoring at Skywalker Sound, has. Check it out:
TK