'The Walking Dead' Renewed For Season Six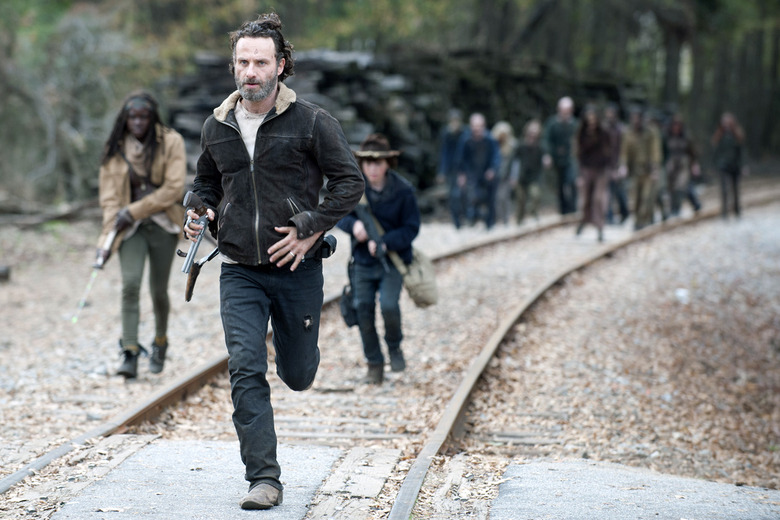 The fifth season of The Walking Dead returns this weekend but, almost a week before that, AMC has already renewed the show for another. Not a surprise for what continues to be one of the most popular shows on all of cable TV. Read more about The Walking Dead Season 6 below.
Variety was among the outlets to reveal the news. Here'a s quote from the president of AMC, Charlie Collier:
We could not be more excited for October 12th as we share new episodes of 'The Walking Dead' with fans around the globe. In advance of Sunday's season five premiere, AMC proudly confirms a sixth season order of this extraordinary series. Thank you to Robert Kirkman, Scott Gimple, the terrific executive producers, and the entire team who brings this compelling world and these rich characters to life. There's plenty more Dead ahead thanks to their impressive, collective effort.
That "plenty more" not only refers to the main show, The Walking Dead, but the spin-off that is currently in the works. That show will aim to give the audience an idea of what's happening in other places around the world outside of the main characters in the South. You can read more about the show as character descriptions have been revealed here.
While the news of a Walking Dead Season 6 isn't exactly surprising, the question begins to become "Where does it end?" Six seasons seems to be about the shelf-life of some of the great entertainment on TV these days. Some shows go a few seasons over, a few others under, but The Walking Dead is now hitting that point where the network has to start thinking end game.
Obviously the audience is still there for the show and, storywise, there's no real rush. These characters could go on surviving and killing zombies for 60 seasons. In the past few seasons though, they've begun the subplot about Washington DC and a cure. That'll surely get developed more in season 5 and I wonder if that's just the next big milestone or the real end game.
Are you still with The Walking Dead? Where do you think it's going?