Michael Jackson's 'Thriller' Directed By John Landis To Get 3D Release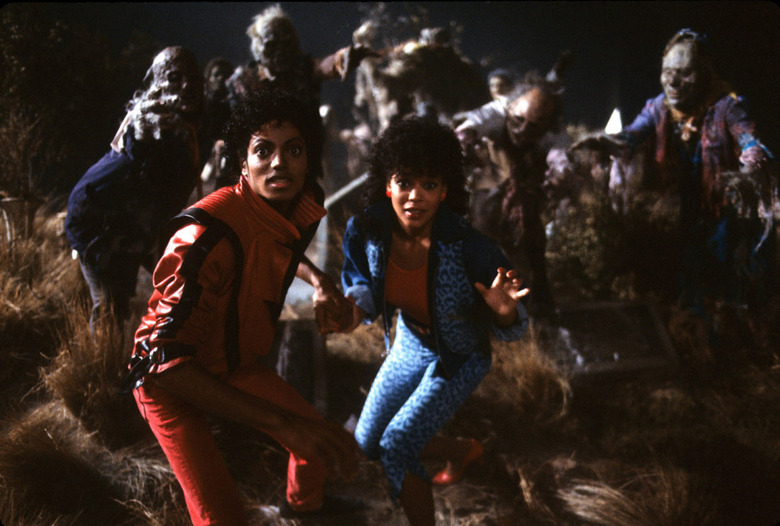 Michael Jackson passed away in 2009, but you almost wouldn't know it from his output since then. He's released two posthumous albums and starred in a documentary. Now he's headed back to the our screens again as his seminal 1983 music video "Thriller" prepares for a 3D rerelease.
In a new interview, director John Landis confirmed his plans to revive the video in 3D next year on Blu-ray or even in theaters. Should that go well, the Michael Jackson estate has even bigger plans for the property. Get details on the Thriller 3D rerelease after the jump.
"That lawsuit went on for so many years, but we settled and they paid me finally," he said. "And so, actually there is something happening with 'Thriller.' It is going to reappear in a highly polished and three-dimensional way that is very exciting on the big screen."
Landis wouldn't go into too much detail about the "Thriller" 3D rerelease ("I might have to kill you," he joked to the interviewer) but the word is that the revamped short film will hit Blu-ray and/or theaters and/or other promotional outlets sometime next year.
A source reveals the late singer had originally hoped to include a 3D version of "Thriller" as part of his London show, and that the estate is now considering "gaming ideas" for "Thriller": "It could a be a dance experience or a zombie-style,shoot-' em-up-style movie."
Additionally, the NYDN reports paperwork filed by the estate suggests other Jackson projects including "multiple albums," "Internet games" and "film, documentary and a Broadway play about Michael" are also in the works.
Landis and Jackson's "Thriller" cost $500,000 to make — an exorbitant amount for a music video of all time — but the investment paid off. The short film is still considered iconic, and in 2009 it became the first music video ever inducted into the National Film Registry.
A few years ago, there was talk that Kenny Ortega wanted to adapt "Thriller" into a feature film, but nothing's come of that since then. Seeing the original short in 3D should be a treat, if Landis can make it happen.
Now, who wants to make bets on how long it'll be before NBC tries to turn it into a TV series?
Relive the original "Thriller" music video in its entirety below.