Star Wars Bits: John Williams Starts 'Episode VII' Work Soon; Plus Oscar Isaac, Expanded Universe, Lego, Mobile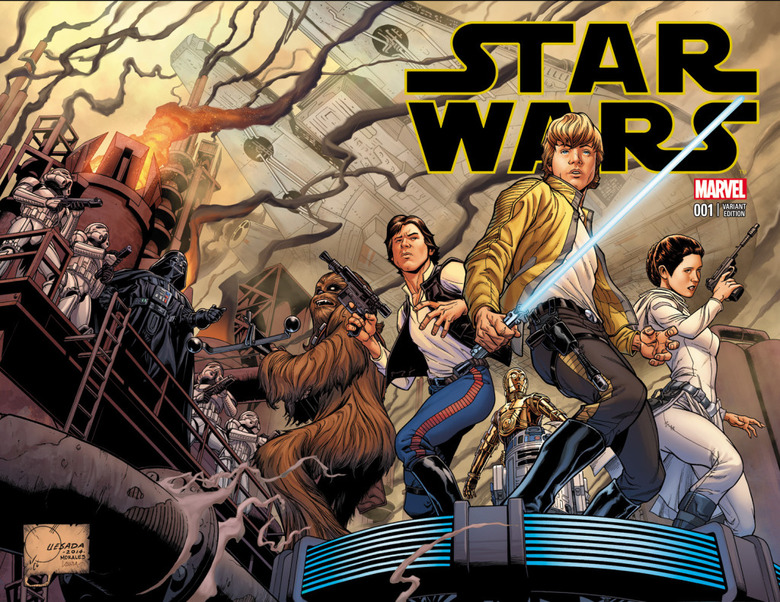 This is a jam-packed edition of Star Wars Bits. We've got real Star Wars Episode VII news, rumors, toy information, book excerpts, and even mobile game updates. Below, read about the following.
John Williams will start working on Star Wars Episode VII in two weeks.
Read about some of the work Phil Tippett might be doing on Episode VII.
Oscar Isaac has finished his work on Star Wars Episode VII.
See Mark Hamill and Carrie Fisher hit the town together.
Read the ominious opening crawl of the new novel Tarkin.
Star Wars authors can still use Expanded Universe bits.
A new creature from Star Wars Episode VII is described.
Some mysterious new characters are revealed in latest Star Wars Lego images.
Watch a video of the new Lego Slave 1.
Star Wars mobile game Tiny Death Star has been taken off line while Angry Birds gets a Star Wars Rebels update.
Possible descriptions of Han Solo's outfits in Star Wars Episode VII.
Header image: Joe Queseda's variant cover for Marvel's Star Wars #1 via StarWars.com.
At a recent performance in Milwaukee, legendary composer John Williams confirmed to the crowd that he's going to star working on Star Wars Episode VII in two weeks. This makes sense as rumors begin to swirl that principal photography is nearing completion. Read more, and watch a video of the announcement, on Making Star Wars.
While there hasn't been an official confirmation, it's very likely that physical effects guru Phil Tippett is returning to Star Wars with Episode VII. A new article suggests he might be working on scenes that are very similar to scenes he worked on in the original trilogy. Scenes such as the chess game on the Millennium Falcon and Jabba the Hutt. Read more at the link.
We recently wrote about how Anthony Daniels finished filming on Star Wars Episode VII, but we missed the quick mention on HitFix that Oscar Isaac finished his part last week too.
Last week, Mark Hamill and Carrie Fisher hit the town together. The Star Wars co-stars and on-screen siblings (spoiler!) both went to the 100th anniversary gala for Midnight Mission, a homeless-aid charity. You can see the great photos on Yahoo Movies and, yes, Hamill is sporting his Episode VII beard.
Star Wars Underworld posted the opening crawl for the new canon Star Wars novel, Tarkin, by James Luceno. It comes out next month and is pretty great.
A long time ago in a galaxy far, far away. . . .
Five standard years have passed since Darth Sidious proclaimed himself galactic Emperor. The brutal Clone Wars are a memory, and the Emperor's apprentice, Darth Vader, has succeeded in hunting down most of the Jedi who survived dreaded Order 66. On Coruscant a servile Senate applauds the Emperor's every decree, and the populations of the Core Worlds bask in a sense of renewed prosperity.
In the Outer Rim, meanwhile, the myriad species of former Separatist worlds find themselves no better off than they were before the civil war. Stripped of weaponry and resources, they have been left to fend for themselves in an Empire that has largely turned its back on them.
Where resentment has boiled over into acts of sedition, the Empire has been quick to mete out punishment. But as confident as he is in his own and Vader's dark side powers, the Emperor understands that only a supreme military, overseen by a commander with the will to be as merciless as he is, can secure an Empire that will endure for a thousand generations . . .
Speaking of Tarkin and its author, Luceno did an interview with Sci-Fi Now about penning the novel and said this about writing something in the new Star Wars canon. Apparently, the Expanded Universe is still on the table:
I chose not to really reference too much EU material only because of the setting of the story, but it was still there. It was still there to pick and choose from. I think going forward what may happen is you may see writers writing around some of that older material that's now classified as Legends – writing around it rather than trying to overwrite it
Making Star Wars has described yet another scene in Star Wars Episode VII. It features a new creature. Click here for the potential minor spoilers.
The Brick Fan has some cool Lego Star Wars news. First up, they have images of a bunch of the smaller sets coming in 2015 including a bunch from Star Wars Rebels. In particular, this TIE Advanced Prototype is cool, new, and includes some very mysterious black hooded characters with a lightsaber. Interesting.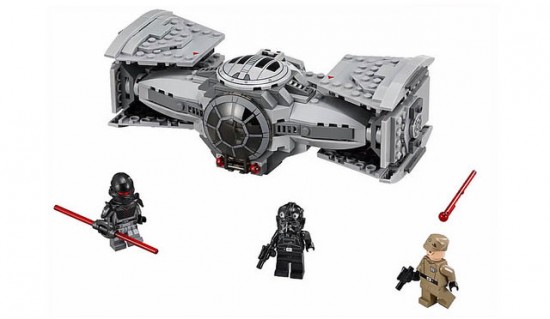 Lego has officially announced the Ultimate Collectors Series Slave 1 for release in January 2015. Pricing and more are available at the above link, but check this awesome video:
Bad news Tiny Tower fans. Game Informer reports that Tiny Death Star has been discontinued. It was taken off the market by Disney without letting the game developer know at all. Read the full story at the link. On the more positive mobile game, Star Wars Angry Birds II got an update with new levels based on Star Wars Rebels.
Finally, back to Episode VII, some possible descriptions of Han Solo outfits in the film have been revealed. Now, they aren't particularly revealing, but if you're a Solo fan, you'll want to know about some new looks you may expect come December.