LOL: 'Toy Story' And 'Annabelle' Mashed-Up In 'Woody'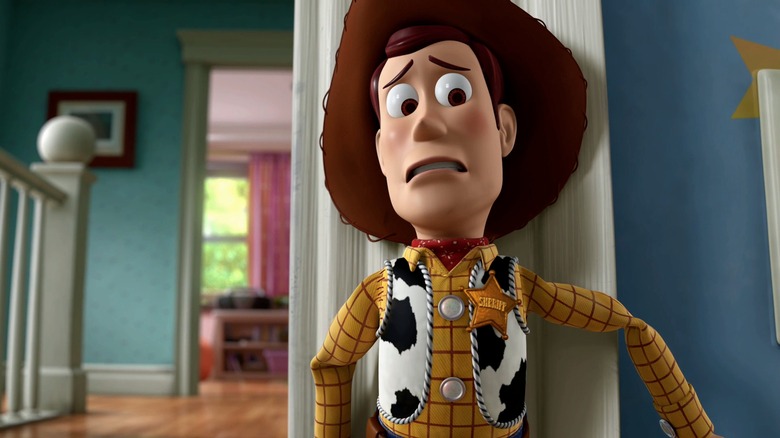 This past weekend, it took every dollar and cent for David Fincher's latest to beat Annabelle. A prequel to last year's hit horror film The Conjuring, Annabelle tells the story of the evil doll seen briefly in The Conjuring. Evil dolls are not a new thing though. Just today, the creator of Chucky said he'd love his creation to appear in a showdown with Annabelle. Now, a clever video has hit the net that takes the idea of Annabelle and mashes it with a very unlikely bedfellow: Pixar's Toy Story. Watch the funny trailer for the Toy Story Annabelle film, Woody. 
Toy Story + Annabelle = Woody
Get More:
Thanks to MTV for the Toy Story Annabelle video.
For me, I was enjoying this but the final shot is really the one that got it for me. Love the nods to The Exorcist.
Here's the official description of Annabelle, which I hear isn't half bad:
She terrified you in "The Conjuring," but this is where it all began for Annabelle. Capable of unspeakable evil, the actual doll exists locked up in an occult museum in Connecticut—visited only by a priest who blesses her twice a month. New Line Cinema's supernatural thriller "Annabelle" begins before the evil was unleashed. John Form has found the perfect gift for his expectant wife, Mia—a beautiful, rare vintage doll in a pure white wedding dress. But Mia's delight with Annabelle doesn't last long. On one horrific night, their home is invaded by members of a satanic cult, who violently attack the couple. Spilled blood and terror are not all they leave behind. The cultists have conjured an entity so malevolent that nothing they did will compare to the sinister conduit to the damned that is now...Annabelle.
Annabelle, now in theaters, stars Annabelle Wallis, Alfre Woodard, Tony Amendola, Eric Ladin and Brian Howe. It was written by Gary Dauberman and directed by John Leonetti