LOL: 'SNL' Parody Trailer For 'The Fault In Our Stars 2: The Ebola In Our Everything'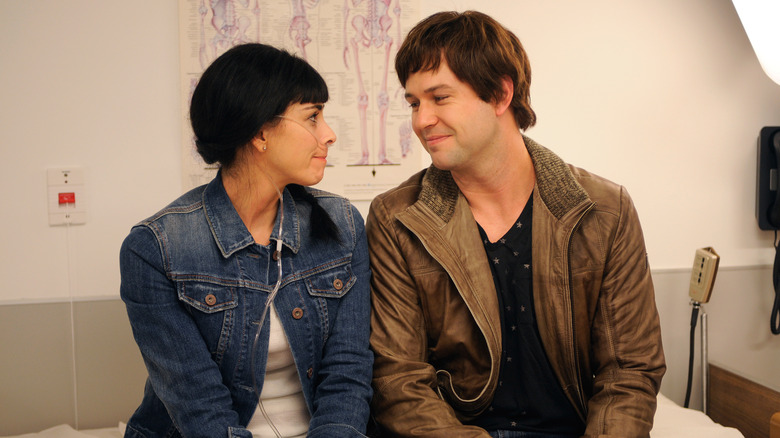 Hollywood loves a good sick-kid story, and as the box office figures for this summer's The Fault in Our Stars showed, audiences adore them too. But cancer is so passe at this point. So Saturday Night Live took a more topical spin on the formula with The Fault in Our Stars 2: The Ebola in Our Everything.
Watch SNL's The Fault in Our Stars ebola-themed parody after the jump. 
The clip originally aired this weekend. Host Sarah Silverman played beautiful young ebola patient Olive, while Taran Killam did his best Ansel Elgort impersonation as "Theodore." In one of the video's funniest moments, another SNL star shows up to offer the latter some words of wisdom.
The star-crossed lovers of The Fault in Our Stars 2: The Ebola in Our Everything should be pleased to know that the virus is not, in fact, airborne. Lying on the grass side-by-side to gaze up at the stars shouldn't pose a risk.
On the other hand, it is spread through contact with bodily fluids or infected surfaces. So maybe they should rethink that whole "just the tip" plan. And maybe all of us in the real world shouldn't get our health tips from Saturday Night Live parody videos.
While Fox isn't really likely to greenlight an ebola-centric version of The Fault in Our Stars anytime soon, it's not tough to imagine the studio trying to figure out some way to sequelize the teen weepie hit. Without a The Fault in Our Stars 2, all that devoted fandom and name recognition is just going to waste.
So far, the best the industry has been able to do is put adaptations of John Green's other novels into development including Paper Towns and Looking for Alaska. Those aren't intended to be linked to The Fault in Our Stars, but given the current craze for "Marvel-style universes," who knows.