'Better Call Saul' Video Has New Footage And A Super-Catchy Tune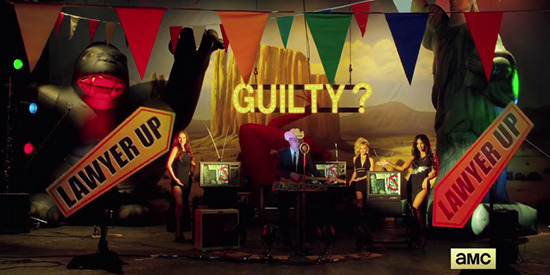 The Breaking Bad spin-off show Better Call Saul doesn't premiere until February. (And we don't even know precisely when in February.) But promotions for the show are already starting. A Breaking Bad marathon on AMC was capped off this weekend by this new Better Call Saul video featuring a song that could well be the show's theme tune. Sung by Junior Brown, the country ditty has lyrics by show creators Vince Gilligan and Peter Gould. The video, which is pretty entertaining on its own, has some new footage from the show, while the lyrics could tease the sort of stories we can expect to see in the series. 
Video via AMC. See a legit teaser trailer for the show here or here.
Better Call Saul stars Bob Odenkirk, with Michael McKean and Jonathan Banks.
The series is set six years before Saul Goodman meets Walter White. When we meet him, the man who will become Saul Goodman is known as Jimmy McGill, a small-time lawyer searching for his destiny, and, more immediately, hustling to make ends meet. Working alongside, and, often, against Jimmy, is "fixer" Mike Ehrmantraut, a beloved character introduced in 'Breaking Bad.' The series will track Jimmy's transformation into Saul Goodman, the man who puts "criminal" in "Criminal lawyer." The series' tone is dramatic, woven with dark humor.