Early Buzz: Paul Thomas Anderson's 'Inherent Vice'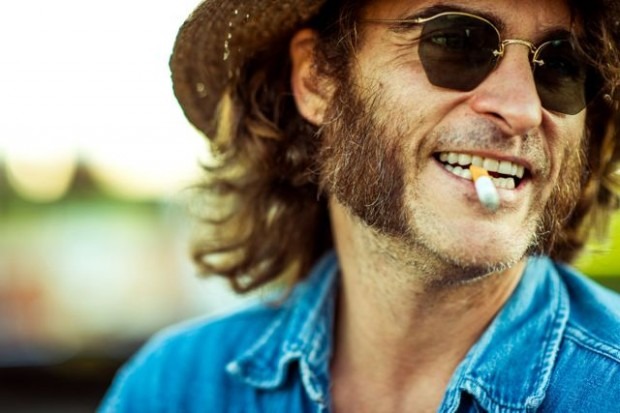 Around these parts, we're very excited about Paul Thomas Anderson's Inherent Vice. It was #1 on my list of most anticipated films of 2014, and Angie and Russ both put it on their lists too. Anderson's resume of work speaks for itself and the film being the first adaptation of a Thomas Pynchon novel only ups the ante. Then that cast is just insane: Joaquin Phoenix, Josh Brolin, Owen Wilson, Reese Witherspoon, Benicio Del Toro, Martin Short and Jena Malone just to name a few.
While the film doesn't open in theaters until December 12, it had its world premiere at the New York Film Festival this weekend and buzz on the film is predictably all over the map. Many are in love with Anderson's latest, praising it for its humor and a purposefully incomprehensible narrative. Others were frustrated by it, hoping for more clarity from the director of masterpieces like Boogie Nights and There Will Be Blood.
Below you can read excerpts from ten Inherent Vice reviews. Three are negative, six are positive and one is undecided. It seems like an appropriate reaction to what's likely Anderson's most trippy film yet.
What might have seemed poised as a primo 1970s counterculture companion piece to Boogie Nightsemerges as something less than that in Inherent Vice. The first filmmaker okayed to adapt a Thomas Pynchon novel for the screen, Paul Thomas Anderson has made a zig-zagging, effortfully comic mystery yarn that sends a weed-and-beach loving private dick on a dazed journey through the mash of corrupt cops, druggies, new age cultists, hookers, Nazi bikers, Black Power toughs, real estate tycoons, Nixonian politicos and free love chicks that was L.A. forty-four years ago. But only fitfully does the film manage the kind of lift-off as that achieved by Pynchon's often riotous 2009 novel and, most disappointingly, it offers a only a pale and narrow physical recreation of such a vibrant place and time.
Freely but faithfully adapted by Anderson from Thomas Pynchon's 2009 detective novel — the first of the legendary author's works to reach the screen — Anderson's seventh feature film is a groovy, richly funny stoner romp that has less in common with "The Big Lebowski" than with the strain of fatalistic, '70s-era California noirs ("Chinatown," "The Long Goodbye," "Night Moves") in which the question of "whodunit?" inevitably leads to an existential vanishing point. Not for all tastes (including the Academy's), this unapologetically weird, discursive and totally delightful whatsit will repel staid multiplex-goers faster than a beaded, barefoot hippie in a Beverly Hills boutique.
"Inherent Vice" never reaches comedically vibrant heights, but the movie has plenty of charm. While the setting returns Anderson to the "Boogie Nights" era," it trades that movie's pizzazz — not to mention its epic scope — for the probing qualities found in "The Master." While swapping ominous atmosphere for playful soul-searching, it retains the same predilection for raising questions rather than trying to answer them.
The curious problem with Paul Thomas Anderson's "Inherent Vice," an adaptation of Thomas Pynchon's novel that premiered at the New York Film Festival on Saturday, is that it spotlights lots of external vices (drug use, sexual excess, romantic obsession) but few that could be called inherent. It's a lengthy burlesque on paranoia, on conspiracies both real and imagined, so dazed in its color schemes that Anderson clearly wants you to get stoned watching it. But the sense of being blissfully out-of-it, which can have its pleasures, soon drifts into another aspect of drug use: detachment.
Maybe the literate-minded will have already read Pynchon's novel and hold it to some esteem. If you're one of those people, then good for you. I would imagine spending days reading the novel would be more satisfying than sitting through two-and-a-half hours of Anderson's version of it, which somehow stumbles over his "auteur"-like tendencies to create something that fails to achieve even the lowest level of what most might dub "entertainment."
The last word I would ever use for Pynchon's work is "cinematic," so it seems like a perverse joke that Paul Thomas Anderson would go all-in on an adaptation of one of Pynchon's books. Even more unlikely is just how right Anderson ends up being for the material. It would be easy to try to compare "Inherent Vice" to other films in the same genre. You'll read plenty of comparisons to Robert Altman's "The Long Goodbye" or "The Big Lebowski" by the Coens, but it's really not doing the same thing either of those films did. This is a singular thing, and it is gorgeous.
It's not a movie. It's a contact high.
Inherent Vice, by contrast, turns out to be a ramshackle triumph; a colourful detour disguised as a crime caper, making antic hay fromThomas Pynchon's 2009 novel. Anderson's yarn arrived at the New York film festival confidently billed as one of the prizes of the autumn season, buttressed by an all-star cast and exciting instant talk of Oscar glory. And yet Vice, for all its virtues, is too wild, baggy and disreputable to play well with Academy members – and this is surely for the best. The film's natural habitat is with the deadbeats and the dreamers, in a bygone California where hippie freak-ins bloom like wildflowers and a menu at the massage parlour advertises oral sex for $14.99. They should screen it in a pop-up cinema in a city park, with complimentary reefers and a henna tattoo.
To me, Inherent Vice is a little too zonked, meandering and overly long, an ultimately pointless story told by a stoned person. I realize that's kind of the point, but it makes for eye-itching viewing, despite all of Anderson's typically stunning camera work and nifty staging. Though it features fine performances from actors like Benicio del Toro, Josh Brolin, and, briefly, Martin Short, the film's women get short shrift. Mostly they are stringy-haired beach pixies, or cool hippie chicks, or sprightly sex workers, who act as winking-cool window dressing until their body parts present some narrative function. At least Jena Malone makes a funny, sad impression in her one scene as a recovering heroin addict, while Waterston is often captivating in her haunted, dazed murmur. (Speaking of dazed murmurs, otherworldly indie harpist-singer Joanna Newsom provides some dreamy voice over narration.) This is an intriguingly cast film, as all Paul Thomas Anderson films are. I just wish he'd given some of his actors more to do.
There seems to be an appealing sense of impenetrability to PT Anderson's films, something similar to the way people usually say that you can only begin to understand Stanley Kubrick films ten years after their initial release. Anderson has surely gotten many comparisons to Kubrick in recent years, and they aren't far off. He has reached a certain similar level of creative autonomy and critical recognition that not many other filmmakers can claim, and continues to make some of the most undeniably engrossing films that render equal amounts of legitimate reactions both for and against them. Inherent Vice is no different, and should rouse healthy conversation on both sides of the argument, but for my money's worth it's another excellent chapter in the career of one of the contemporary greats.
In a question and answer session after Saturday morning's New York Film Festival premiere of 'Inherent Vice,' Paul Thomas Anderson compared his new film to Howard Hawks' 'The Big Sleep,' adding, "I couldn't follow any of it and it didn't matter." This is also an apt way of describing 'Inherent Vice.' The problem is, 'Inherent Vice' isn't, say, 'Mulholland Drive' confusing – it's still coherent enough that while watching, I still feel like I'msupposed to know what's going on – and there's this foreboding feeling that some sort of big reveal is coming that I was going to miss out on while the rest of the audience shrieks with approval. This hypothetical reveal never happens and, after the movie is over, it became apparent that I shouldn't have been quite that worried because it didn't matter. None of the plot matters; it's the individual situations that matter. 'Inherent Vice' is almost a series of interesting and loosely connected vignettes.