'Olive Kitteridge' Trailer: Frances McDormand Leads HBO Miniseries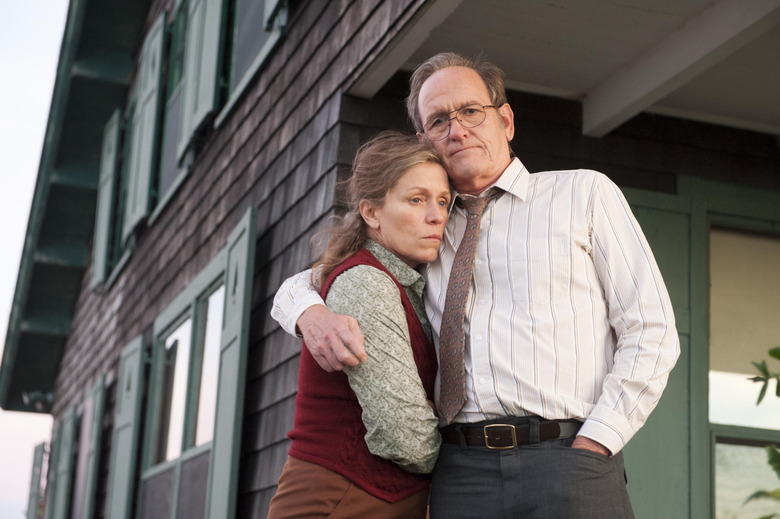 Mainstream cinema isn't exactly brimming over with meaty leading roles for women over 40, but we've seen a lot of fine actresses find exciting work on TV. Add to that list Frances McDormand, who appears to deliver another stunning turn in the upcoming HBO miniseries Olive Kitteridge.
Directed by Lisa Cholodenko and based on the novel by Elizabeth Strout, Olive Kitteridge centers on an abrasive teacher living in a small New England town. Okay, so that's not the most exciting premise on paper — but strong reviews out of Venice and a top-notch supporting cast that also includes Bill Murray and Richard Jenkins suggest it'll be worth a look.
Watch the Olive Kitteridge trailer after the jump.
HBO posted the Oliver Kitteridge trailer on YouTube.
Blunt, unsentimental, and even harsh, Olive isn't the easiest character to cozy up to. Good thing she's got McDormand on her side. She's the kind of actress that can make any character seem three-dimensional and sympathetic, or at the very least, really fun to watch.
Olive Kitteridge will air in four parts over two nights. The first two installments air on HBO Sunday, November 2 at 9 PM, followed by the last two on Monday, November 3 at 9 PM. Zoe Kazan, Peter Mullan, Rosemarie DeWitt, and John Gallagher Jr. are among the many others who co-star.
OLIVE KITTERIDGE tells the poignantly sweet, acerbically funny and devastatingly tragic story of a seemingly placid New England town wrought with illicit affairs, crime and tragedy, told through the lens of Olive (Frances McDormand), whose wicked wit and harsh demeanor mask a warm but troubled heart and staunch moral center. Richard Jenkins portrays Olive's husband, Henry.
The story, which spans 25 years over the four parts, focuses on Olive, a middle-school math teacher, and her relationships with Henry, the good-hearted town pharmacist, their son Christopher, who chafes at his mother's parenting style, and other denizens of their community.