'Life Of Pi' Cinematographer Claudio Miranda Shooting 'Star Trek 3'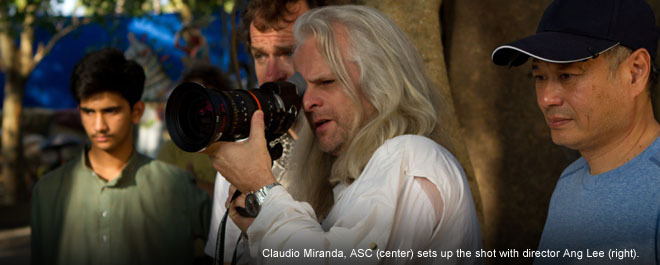 The Oscar win Claudio Miranda enjoyed for Life of Pi started some conversations, as that film was shot with a heavy blend of real and CG environments. But Miranda's skill in leading a crew that works with such a combination of elements should serve him very well for his next gig. Miranda (above, center) has been hired to shoot Roberto Orci's Star Trek 3, which will also mark the current series' transition from film to digital.
TrekMovie reports the Claudio Miranda Star Trek 3 hire. The two Star Trek films directed by J.J. Abrams utilized much of the same crew across the two pictures, led by cinematographer Daniel Mindel. But Mindel went with Abrams to make Star Wars Episode VII, and some of the other crew went with them.
So there are new faces behind the cameras for Star Trek 3. And while Abrams and Mindel shot the first two Trek films on actual film, in keeping with Miranda's working methods Star Trek 3 will be shot digitally.
This won't be the cinematographer's first brush with sci-fi. In addition to Life of Pi, he has recently worked with Joseph Kosinski on Tron Legacy and Oblivion, and shot Brad Bird's Tomorrowland. He also shot The Curious Case of Benjamin Button for David Fincher. (Miranda has done a lot of work with Fincher, in fact. He was the gaffer on extra Se7en shoots, and on the main unit for The Game and Fight Club, and did some uncredited cinematography on Zodiac.)