'American Sniper' Trailer: Clint Eastwood Takes Bradley Cooper To War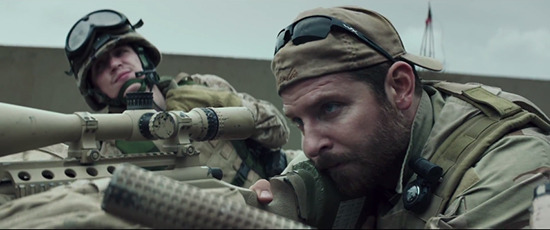 Here's the first trailer for American Sniper, in which Bradley Cooper plays murdered Navy SEAL sniper Chris Kyle. Clint Eastwood directs the film, which was adapted from Kyle's autobiography. Bradley Cooper is also a producer on the film, and it is perhaps thanks to his dedication to the project that American Sniper looks like Eastwood's best film in several years. Below, watch an intense American Sniper trailer. We see flashes of Kyle's life, but the nail biting trailer is organized around one very specific wartime engagement that illustrates the moral dilemma inherent in the job Kyle did so well. 
American Sniper opens limited on Christmas Day, then will go wide on January 16, 2015. Trailer via Warner Bros.
Warner Bros. Pictures in association with Village Roadshow Pictures presents AMERICAN SNIPER. Directed by Clint Eastwood and starring Bradley Cooper, Sienna Miller, Jake McDorman, Luke Grimes, Navid Negahban and Keir O'Donnell.
From director Clint Eastwood comes AMERICAN SNIPER, starring Bradley Cooper as Chris Kyle, the most lethal sniper in U.S. military history. But there was much more to him than his skill as a sharpshooter.
U.S. Navy SEAL Chris Kyle is sent to Iraq with only one mission: to protect his brothers-in-arms. His pinpoint accuracy saves countless lives on the battlefield and, as stories of his courageous exploits spread, he earns the nickname "Legend." However, his reputation is also growing behind enemy lines, putting a price on his head and making him a prime target of insurgents. He is also facing a different kind of battle on the home front: striving to be a good husband and father from halfway around the world.
Despite the danger, as well as the toll on his family at home, Chris serves through four harrowing tours of duty in Iraq, personifying the SEAL creed to "leave no man behind." But upon returning to his wife, Taya Renae Kyle (Sienna Miller), and kids, Chris finds that it is the war he can't leave behind.