Daniel Radcliffe Joins 'Now You See Me 2'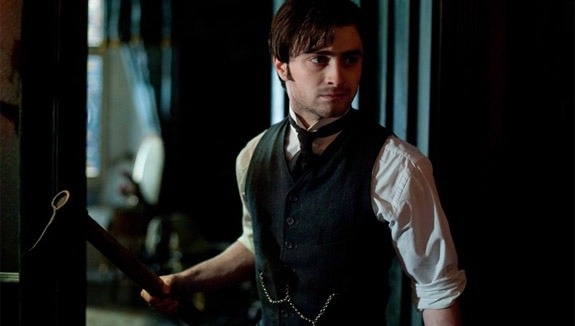 Daniel Radcliffe's wizarding days are behind him, but that doesn't mean he's completely done with magic. The British star has boarded the cast of Now You See Me 2, which Jon M. Chu is directing for a summer 2016 bow. Hit the jump for more on the Daniel Radcliffe Now You See Me 2 casting, including character details.
There's a sequel to Now You See Me and we're shooting in London. I shoot in December, the whole of December in London, and my son is Harry Potter. I thought it'd be funny, me and Daniel Radcliffe as father and son.
Radcliffe is the first new cast member we've heard of for the sequel. In addition to Caine, Mark Ruffalo, Jesse Eisenberg, Isla Fisher, Woody Harrelson, Dave Franco, and Morgan Freeman are also expected to reprise their roles from the first movie.
Caine didn't offer any additional Now You See Me 2 plot details, but the casting suggests the sequel will extend some of the father-son themes from the first film. Given things didn't end so well for Caine's insurance magnate Arthur Tressler in the last film, we're guessing some kind of revenge plot will be involved.
Since closing out the eight-film Harry Potter franchise in 2011, Radcliffe has kept us guessing with a diverse array of roles. Among other things, he's done horror (The Woman in Black), historical drama (Kill Your Darlings), and romantic comedy (What If). He's even visited the stage (Equus) and the small screen (A Young Doctor's Notebook).
His upcoming releases are just as varied. They include Alexandre Aja's fantasy thriller Horns, Judd Apatow's comedy Trainwreck, and Fox's new version of Frankenstein. They could include Sharknado 3, if Radcliffe gets his way, but do not include the planned Harry Potter spinoff Fantastic Beasts and Where to Find Them.
Summit will release Now You See Me 2 in theaters on June 10, 2016.