Exclusive: Sony Betting Big On 'Pixels', Trailer Will Be Attached To Third 'Hobbit' Film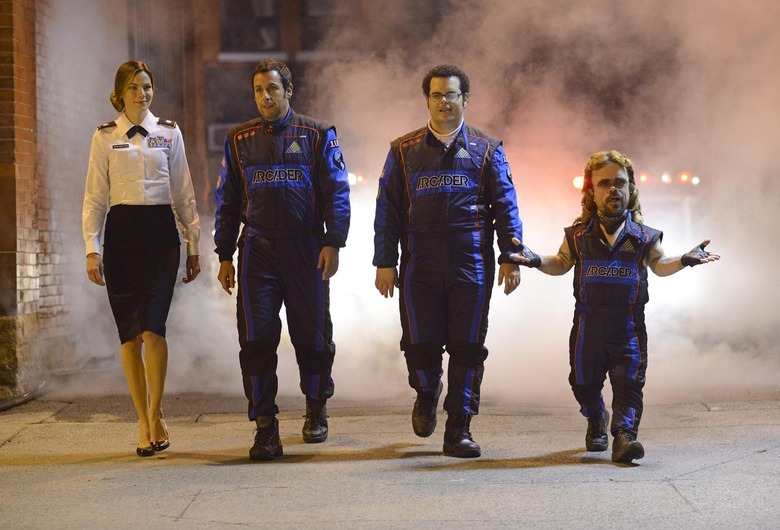 Remember when Summer blockbusters weren't just comic book adaptations and sequels? When high concept, crazy huge ideas dominated the multiplexes? It feels like its been forever but Chris Columbus' 2015 release Pixels is exactly that. Yes, it's
, but the big idea is pure Summer blockbuster. When classic video game characters come down to destroy the earth, a group of nerdy gamers are tasked with saving the world. They're played by Adam Sandler, Josh Gad and Peter Dinklage.
We've seen a few images from the film but even this year's Comic-Con panel failed to reveal any footage. Now we can exclusively reveal when footage will finally be released. Sony has made an agreement with Warner Bros. to debut the first Pixels trailer in front of The Hobbit: The Battle of the Five Armies on December 17.
/Film has exclusively confirmed the Pixels trailer placement.
After the Comic-Con panel and
arcade used to spread the word
about the film, this the next step in what's expected to be a massive marketing campaign. We've heard Sony really likes what they've seen and they think they have a big hit on their hands come July 24, 2015. Hence the very early trailer with another studio.
Pixels is directed by Chris Columbus from a story by Tim Herlihy, and a screenplay by Herlihy and Timothy Dowling, based on Patrick Jean's original short film of the same name. It'll feature Pac-Man, Donkey Kong, Q*Bert, Space Invaders and Galaga alongside Sandler, Gad, Dinklage, Kevin James, Brian Cox and Michelle Monaghan:
In Pixels, intergalactic aliens misinterpret video-feeds of classic arcade games as a declaration of war against them and attack the Earth, using the games as models for their various assaults. President Will Cooper (James) has to call on his childhood best friend, '80s video game champion Sam Brenner (Sandler), now a home theater installer, to lead a team of old-school arcaders (Dinklage and Gad) to defeat the aliens and save the planet. Monaghan plays the team's unique weapons specialist.
Here's the original short film, which is legitimately fantastic.