'American Horror Story: Freak Show': First Footage And Opening Credits Revealed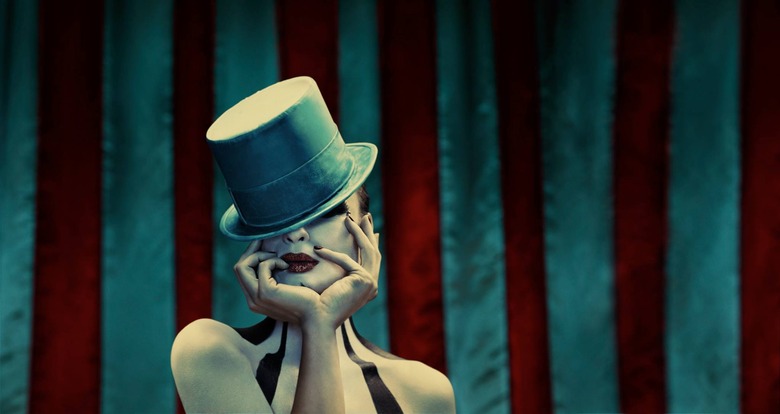 Come one, come all to preview the latest twisted season of FX's American Horror Story. Today's goodies include our first look at actual American Horror Story Freak Show footage in the form of a new trailer, as well as the entire nightmarish opening credits sequence.
Jessica Lange leads the new storyline as Elsa Mars, the ringleader of a collection of human oddities. Jessica Lange, Sarah Paulson, Kathy Bates, and Evan Peters are just a few of the familiar faces in her menagerie. Hit the jump to take a peek.
The first American Horror Story Freak Show footage comes to us via Buzzfeed. If you really don't have the time to sit through the one-minute promo, they also have the biggest highlights in GIF form.
And FX dropped the American Horror Story Freak Show credits on its official YouTube page. The carnival influences add a special layer of creepy to the familiar dark tune.
So. Many. Clowns. Coulrophobics would be wise to stay away.
Michael Chiklis, Frances Conroy, Denis O'Hare, Emma Roberts, Finn Witrock, and Angela Bassett also star. American Horror Story: Freak Show opens curtains on October 8.
American Horror Story: Freak Show' begins its tale in the quiet, sleepy hamlet of Jupiter, Florida. The year is 1952. A troupe of curiosities has just arrived to town, coinciding with the strange emergence of a dark entity that savagely threatens the lives of townsfolk and freaks alike. This is the story of the performers and their desperate journey of survival amidst the dying world of the American carny experience.