New 'Interstellar' Trailer Goes Deep; Plus Kip Thorne Featurette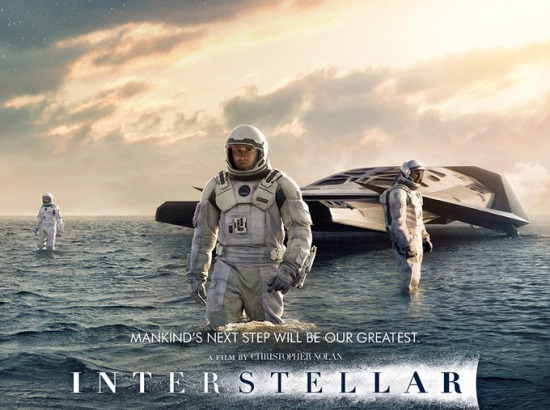 Here's what will likely be the final Interstellar trailer, via a website that offers audiences a chance to explore space along with the characters. This trailer also confirms the IMAX release of the film on November 5, with that lovely "In 70mm IMAX film, 70mm film and 35mm film" tag. Watch the final Interstellar trailer below.
UPDATE: We've added a new featurette about the science of Interstellar according to Kip Thorne.
The trailer was discovered on this site, which has a ton of new content: photos, posters, more.
At this point I'm choosing to wait to explore space myself through the final film rather than another trailer. But watching this with the sound off is a pretty good tease that doesn't give much away.
A full list of theaters that will be playing the film in various formats, with links to tickets, is at https://interstellar.withgoogle.com/ways-to-see. It's opening 3 days early in 70mm IMAX, 70mm film and 35mm film.
Interstellar arrives in theaters November 7 with Matthew McConaughey, Anne Hathaway, Casey Affleck, Jessica Chastain, David Gyasi, Ellen Burstyn, Bill Irwin,David Oyelowo, Wes Bentley, Michael Caine, and John Lithgow.
Interstellar chronicles the adventures of a group of explorers who make use of a newly discovered wormhole to surpass the limitations on human space travel and conquer the vast distances involved in an interstellar voyage. With our time on Earth coming to an end, a team of explorers undertakes the most important mission in human history; traveling beyond this galaxy to discover whether mankind has a future among the stars.
UPDATE: Here's a new featurette on Interstellar featuring the work of Kip Thorne. Thorne's scientific research and ideas are what heavily inspired both Christopher and Jonathan Nolan's work on the film. This featurette shows Nolan on set, him working directing with the scientist and more. It's pretty great and shows how deep Nolan and his team went to make the adventure film as realistic as possible.