'Justice League: Throne Of Atlantis' Trailer: WB Animation's DC Aquaman Movie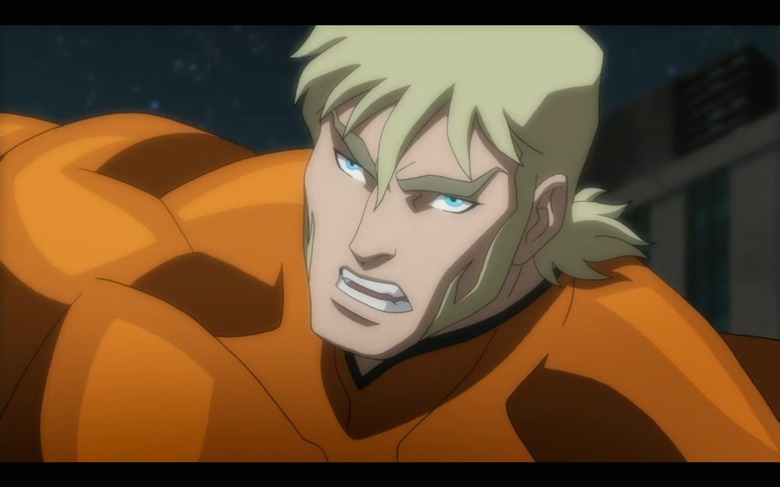 Warner Bros. live action superhero film, Batman v Superman: Dawn of Justice, doesn't hit theaters until March 2016 but the animated equivalent will be here a year earlier. Justice League: Throne of Atlantis will hit Blu-ray and DVD in early 2015 and serves as a sequel to the film Justice League: War. All of the WB Animation DC films share the same universe and, in this latest film, Aquaman teams up with Batman, Superman, Wonder Woman, The Flash, Green Lantern, Shazam and others to battle a threat from under the sea. Check out the first full Justice League Throne of Atlantis trailer here.
Thanks to Newsarama for the Justice League Throne of Atlantis trailer and be sure to watch to the very end to get some of the Justice League banter these movies are great at.
In all likelihood, Aquaman will be in Batman v Superman: Dawn of Justice, leading into a live action Justice League movie. Jason Momoa is playing the role. The animated counterparts are way ahead, though, with the Justice League already formed and now they'll work in Aquaman, voiced by Matt Lanter (Star Wars: The Clone Wars).
Directed by Ethan Spaulding (Son of Batman, Batman: Assault on Arkham), Justice Leauge: Throne of Atlantis, features the voices of Sam Witwer as Orm/Ocean Master, Chris Gorham as The Flash, Jason O'Mara as Batman, Shemar Moore as Cyborg, Rosario Dawson as Wonder Woman, Jerry O'Connell as Superman, Nathan Fillion as Green Lantern, Sean Astin as Shazam and others. Here's the plot description via Newsarama:
As Orm and Black Manta make their move against the surface world after the battle with Apokolips forces in Justice League War had deadly consequences for Atlantis, the queen of the lost underwater civilization searches for her other son, Orm's half brother Arthur. Living on the surface world with powers he doesn't understand, Arthur Curry steps into his destiny as Aquaman, teaming with the Justice League to save and unite all people of the world.