Ethan Hawke Latest Actor Rumored For 'Doctor Strange'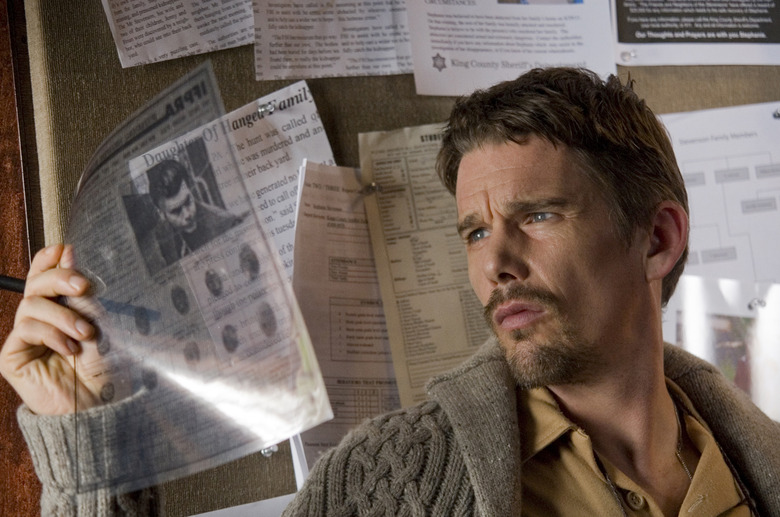 When last we left the role of Marvel Studios' Doctor Strange, Joaquin Phoenix was in "final talks." That was in late August, but Marvel has yet to make an official announcement about the casting. So we wait. Now, a new name is in the mix, reportedly contacted after Joaquin Phoenix wouldn't make things final. That name is Ethan Hawke, the star most recently seen in Boyhood.
Hawke starred in director Scott Derrickson's 2012 hit, Sinister, so he has a relationship with the director. He also has that wise gravitas needed for the role. But is this real? We explore the Ethan Hawke Doctor Strange rumor after the jump.
The news came from the site This is Infamous, which isn't exactly Variety, but the writer seems confident:
Ethan Hawke is their new guy, having offered him the role on Friday. I hear Hawke accepted the job over the weekend, and things have quickly progressed into contract talks, with a six-picture deal being what Marvel is hoping to lock him into.
Is this true? It certainly sound plausible. Hawke would actually be pretty fantastic casting, he's comfortable with the director, and he's not as uunpredictable as Phoenix, an actor who prides himself on more creative choices. That's not to say Hawke isn't a creative, talented actor, he's just never been one to turn down a fun role for a paycheck. This is the man who starred in Getaway with Selena Gomez last year, after all. But he also filmed Boyhood for 12 years so, basically, he can do anything.
There's also the possibility this news is just being floated out there to put pressure on Phoenix's camp. A negotiation tactic by Marvel to say "If we don't settle this, we have other options." Or maybe it's totally fabricated. Marvel Studios keeps things like this under their hat until the time is right.
Either way, Doctor Strange is set to start shooting next year aimed at a Summer 2016 release date. What do you think of Ethan Hawke in the role of Doctor Strange?