'Exodus: Gods And Kings' Trailer: Christian Bale Is The Chosen One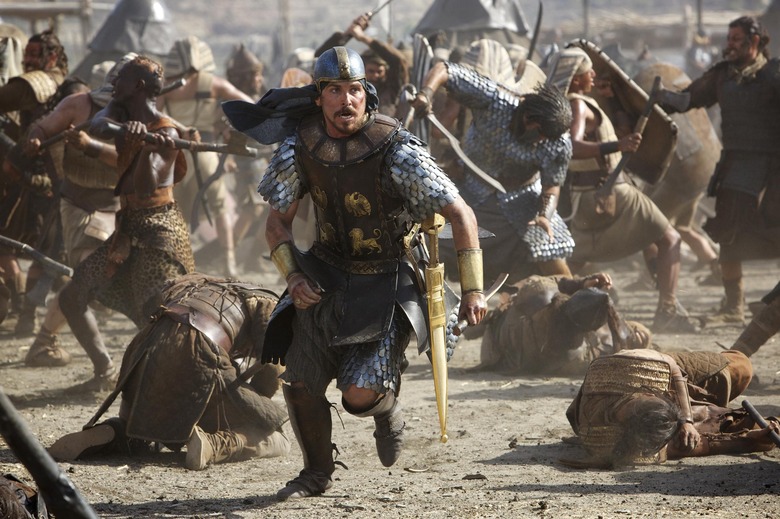 Let it never be said that Ridley Scott works too slowly. This winter brings the release of Exodus: Gods and Kings, his fourth film in five years. This one stars Christian Bale as Moses and Joel Edgerton as Ramses, and if you've ever been to Sunday School or caught The Ten Commandments on TV over Easter weekend, you'll know exactly how dramatically the adopted brothers' relationship goes awry.
Watch the Exodus Gods and Kings trailer after the jump.
Is it weird that one of my favorite things about this trailer is the font? It's just so striking and unique.
Going back to the movie itself: As you'd expect from a Ridley Scott movie, Exodus: Gods and Kings is a pleasure to look at. (At least, if you can get over how weird it is that all the important Egyptians look white.) There are sweeping city vistas, epic battle sequences, and dramatic CG plagues.
And with a cast that talented, we can definitely expect some performances worth tuning in for. Interestingly, Bale admitted that his was inspired not by the classic Moses movie The Ten Commandments ("you can't out-Heston Charles Heston") but by — of all things — Monty Python's Life of Brian.
"The point being, anything where you are approaching it from a very earnest point of view can unintentionally become The Life of Brian," Bale explained. "You have to have humor with something that is as earnest as this, and as heavyweight as this. You have to have an element of comedy in your everyday life during filming, otherwise it becomes too depressing."
Exodus: Gods and Kings lands in theaters December 12, 2014. Sigourney Weaver, Ben Kingsley, and Aaron Paul also star.
From acclaimed director Ridley Scott (Gladiator, Prometheus) comes the epic adventure "Exodus: Gods and Kings," the story of one man's daring courage to take on the might of an empire. Using state of the art visual effects and 3D immersion, Scott brings new life to the story of the defiant leader Moses (Christian Bale) as he rises up against the Egyptian Pharaoh Ramses (Joel Edgerton), setting 400,000 slaves on a monumental journey of escape from Egypt and its terrifying cycle of deadly plagues.