Video: See Cars Land's New Ride 'Luigi's Rollickin' Roadsters' In Action, Learn When It Will Open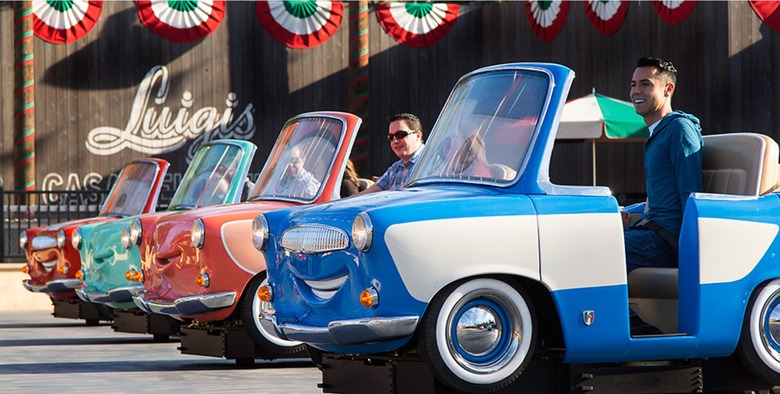 Walt Disney Imagineering has released the first video of Luigi's Rollickin' Roadsters, a new ride that will replace Luigi's Flying Tires in Disney California Adventure's Cars Land. They have also announced that the new attraction will open on March 7th 2016. Hit the jump to watch the Luigis Rollicking Roadsters ride video and learn more.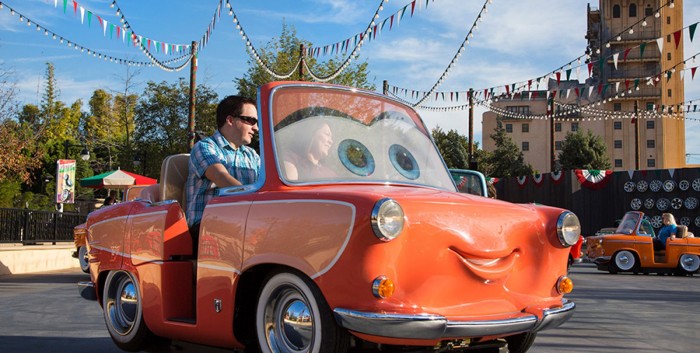 Disney has released the above video which shows you the new ride in action. Is the new ride exciting? Not exactly, it seems very similar to the Mater ride right down the road. But the trackless technology employed in the ride has me excited.
In this all-new attraction, Luigi will turn the tire storage yard behind his Casa Della Tires into a dance floor! Cars Land guests will be able to ride along with Luigi's cousins as they move and spin to upbeat Italian music, performing the traditional dances of their hometown village. Each dancing car will have its own high-spirited personality and signature dance moves – making every ride unpredictable, as you won't know which way they will turn and spin next!
So there are 5 different songs, that means five different ride configurations with each car having its own unique movement and choreography. This means you could ride this attraction a dozen times and not go on the same choreographed movement. Will the ride experience be that different in each car? Thats yet to be seen, but the video promises that the 18 individual paths are different and gives examples about how this could provide a wildly different experience. One things for sure, this looks a lot more exciting than the former Luigi's Flying Tires attraction. And I can't wait for Imagineering to employ this new trackless technology in some cool dark rides stateside.
Luigi's Rollickin' Roadsters Video
Here is more info from our previous story from July 27th 2015:
Luigi's Rollickin' Roadsters Concept Art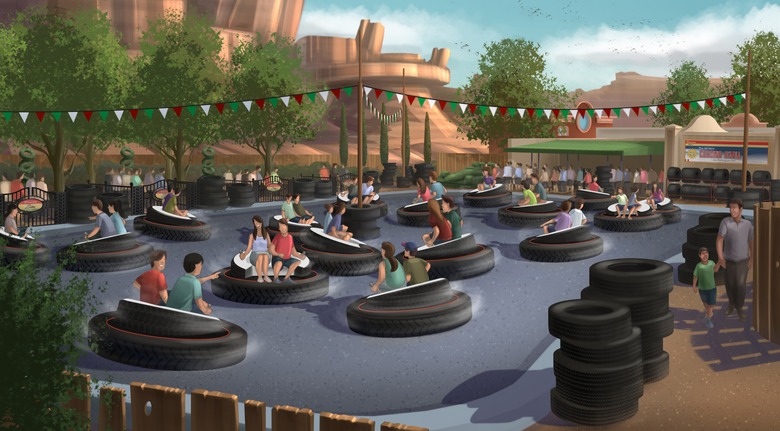 Luigi's Flying Tires ride in Disney California Adventure's Cars Land was short lived– replaced only a couple years after the land opened in Summer 2012. On July 27th 2015, Disney released out first look at the replacement in the form of the concept art below.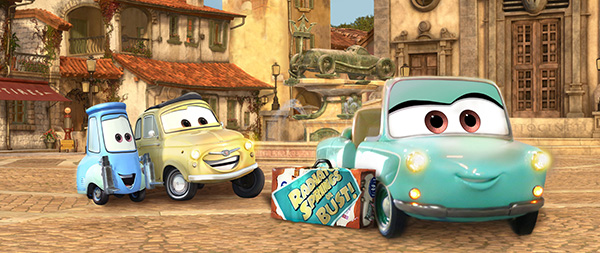 Disney has officially announced the new ride, which will be called Luigi's Rollickin' Roadsters:
Luigi has invited all of his cugini (cousins) from his hometown of Carsoli, Italy, to visit his Casa della Tires. To help celebrate Race Day in Radiator Springs, they will demonstrate the dances of their village with Cars Land guests when the all-new Luigi's Rollickin' Roadsters opens early next year.
What follows is our previous story from February 6th 2015: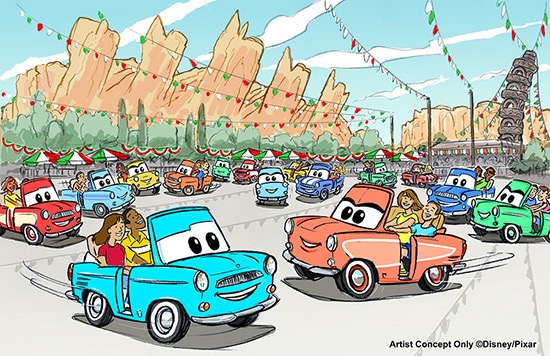 Alongside the concept art, Disney gives us a good media spin on why the ride is being replaced:
Ever since Cars Land opened at Disney California Adventure park in 2012, it has been a huge success. This new land immerses guests in the world of "Cars" and makes them feel like they are standing in the town of Radiator Springs. We've heard from our guests that the cars themselves are one of the things they really love about Cars Land – and today I'm excited to tell you about a project that will bring even more four-wheeled fun.
Yes, more cars — thats it. It had nothing to do with lackluster park guest experiences with the current ride, right? As for the ride's replacement, Disney says the following:
At the end of the operating day on February 16, 2015, Luigi's Flying Tires will close as our favorite Fiat departs for a vacation to his home country of Italy to visit with family. When he returns, his Casa della Tires will reopen as a completely new attraction in early 2016. The attraction will feature a new ride system and ride vehicles. We are excited to tell you more about this ride technology, so stay tuned
Of course, we had more information on the ride's replacement four months ago. Here is our original story from September 30th 2014:
First a little back story.
When Cars Land opened on June 15th 2012, many people were excited for the Luigi's Flying Tires ride because it was an updated version of an original Disneyland attraction called Flying Saucers.
John Lassetter was a fan of the short lived Disneyland attraction and shepherded the reboot in the theme park land based on his Cars franchise. For those of you who don't know, Lassetter is not only the chief creative officer at Pixar, Walt Disney Animation Studios, and DisneyToon Studios, but he is also the Principal Creative Advisor for Walt Disney Imagineering.
The ride basically involves theme park guests boarding ride vehicles the look like tires. A compressor pumps air up through the floor's 6,714 air vents, lifting the vehicles about two inches off the floor, at which point riders can lean from side to side to make the tire float in that direction. After the ride was announced, Vice President of Walt Disney Imagineering Kathy Kangum admitted the designing the ride was not an easy task:
"I think our ride engineers, when we went to them and said, 'Hey we want people to fly,' they would tell you that designing a way for aerodynamics to make that happen was actually pretty difficult,"
The two-minute ride is not as fun as it sounds, and is largely a frustrating experience. Disney Imagineering added beach balls to the attraction to try to add a little more excitement but the balls increased loading and unloading, increasing wait times, and also there were incidents where visitors chucked the balls at one another. So the balls were removed two months later.
The original Disneyland Flying Saucers attraction lasted only 5 years and closed due to similar issues (the low amount of guests who could flow through the attraction each hour made it expensive to maintain and operate).
And now that we're caught up with the backstory, here is the news:
Luigi's Flying Tires Ride To Be Replaced?
The new MiceAge report claims that Cars Land's Luigi's Flying Tires will close on Sunday, January 11th 2015, at which point it will be constructed into a new ride "in the shortest amount of time possible." Here is what was said:
John Lassetter continued to put his considerable influence behind the Flying Tires attraction, even though Mary Niven's operations team at DCA felt the ride was a real turkey. In that previous 2013 update we told you how DCA Cast Members leaving their shifts were surprised to find Imagineers at Luigi's after the park closed testing remote controlled Guido characters. The remote controlled Guido forklifts acted as battering rams who would bash into the tires and help move them around the attraction. That idea continued to morph artistically at WDI, while the Operations team in Anaheim schemed to do away with the ride permanently due to the low customer-satisfaction scores it receives and the unfortunate track record of injuries from people tripping while they try to climb into the cumbersome vehicles. John Lassetter's dream of reinventing the Flying Saucers from his youth never quite worked well, and everyone in Anaheim and a growing group in Glendale knew it but didn't have the guts to tell Lassetter.
The current plan is to apparently replace Luigi's Flying Tires and its "Festival of the Flying Tires" backstory with a new attraction that "removes the need for the riders to steer their own vehicles."
A fleet of 1950's Fiat cars, ostensibly Luigi's extended family visiting from the old country, will spin and twirl around the floor in a choreographed musical production number in the new ride tentatively called "Luigi's Festival of the Dance". The new ride will keep the existing tire showroom building and indoor queue, and use a version of the WiFi controlled system that guides autonomous vehicles through the Ratatouille ride at Disneyland Paris and Mystic Manor at Hong Kong Disneyland. The massive fans and deep basement that powered the Flying Tires ride system will be put into mothballs, while the new ride is built literally on its grave. If the aggressive schedule from WDI pans out, the new ride could be up and running by the Christmas season of 2015, just under a year from the time the Flying Tires closed.
No word on if Fiat will sponsor the new Luigi's Festival of the Dance attraction, although MiceAge speculates that a deal is in progress to have General Motors back as a sponsor for a Disneyland attraction and the mouse house might not be able to have both at the Anaheim theme park resort.
So if this happens, would Luigi's Flying Tires become Disney's shortest lived ride? Nope, its not even the shortest lived ride at Disney California Adventure Theme Park.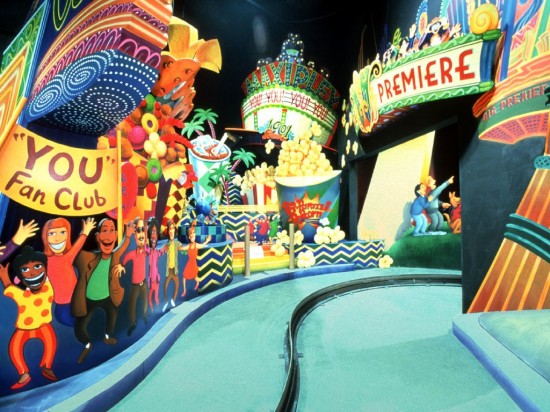 Superstar Limo
That dishonor would go to Superstar Limo, an ill-conceived dark ride which was part of DCA's opening day launch. The ride's story put you as the newest Hollywood's newest celebrity on your way to your big new movie premiere.Guests would board purple-colored "stretch limo" ride vehicles which traveled through a cartoony versions of touristy Hollywood locations (Rodeo Drive, the Sunset Strip, a nightclub, Bel Air, a pool party, Malibu, a tattoo parlor, a soundstage, Grauman's Chinese Theater), complete with animated figures modeled in the likeness of celebrities like Joan Rivers, Regis Philbin, Melanie Griffith, Antonio Banderas, Cindy Crawford, Tim Allen, Jackie Chan, Drew Carey, Cher, and Whoopi Goldberg. A stereotypical Hollywood talent agent named Swifty La Rue appeared frequently on small video screens inside the vehicle reminding the guests not to be late to the big premiere. The ride ended with a billboard that displayed an image of you (and the other people in your limo).
Here is a video of the failed attraction. As legendary Disney journalist Jim Hill wrote a long chronicle of what went wrong with that attraction, here is a small excerpt:
I keep hearing that — no matter how bad things got, no matter how far "Superstar Limo" began to wander away from the sensibilities of the average theme park goer — [Disney CEO Michael] Eisner supposedly always thought that this DCA attraction was going to be a real winner. He allegedly particularly enjoyed a gag that was prominently featured in the concept art and mock-up version of the ride, where Dreamworks SKG's distinctive looking animation studio loomed behind a giant gate with the name "DreamJerks Studio" on it.
Superstar Limo opened up on February 8th 2001 with the launch of Disney California Adventure theme park, and was closed not even a year later, on January 11th 2002. The ride has since been repurposed with a new theme, an attraction based on Pixar's Monsters, Inc. called Monsters, Inc. Mike & Sulley to the Rescue!, which opened years later in 2006.