'Magic Mike XXL' Adds Elizabeth Banks And Donald Glover; Synopsis And New Photo Revealed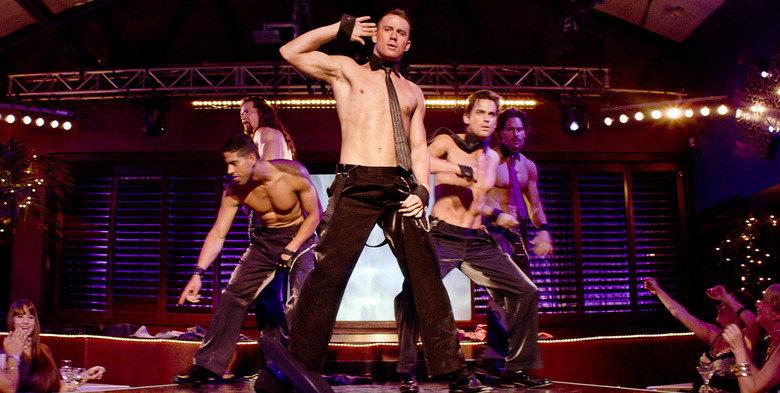 As Magic Mike XXL enters principal photography, Warner Bros. is baring a bit more information about the upcoming sequel. Among the latest stars to be announced are Donald Glover, Elizabeth Banks, and Michael Strahan, though it's equally interesting to note who isn't coming back. We already knew
Matthew McConaughey was a no-go
, but it seems Alex Pettyfer may sit this one out as well.
In addition, the studio has finally revealed the official synopsis for the film which explains exactly why the boys are hitting the road. And star Channing Tatum has dished up a tantalizing image from the first day of shooting. Get the Magic Mike XXL synopsis, casting announcements, and photo after the jump.
Glover, Banks, and Strahan are just a few of several fresh additions to the cast. Amber Heard, Andie MacDowell, and Jada Pinkett Smith are also on board. Pinkett Smith is
playing a strip club owner, and Strahan has
d he'll strip. Details on the other new characters have not been provided.
As for what Magic Mike and his boys will be doing this time around, here's the synopsis:
Picking up the story three years after Mike bowed out of the stripper life at the top of his game, 'Magic Mike XXL' finds the remaining Kings of Tampa likewise ready to throw in the towel. But they want to do it their way: burning down the house in one last blow-out performance in Myrtle Beach, and with legendary headliner Magic Mike sharing the spotlight with them. On the road to their final show, with whistle stops in Jacksonville and Savannah to renew old acquaintances and make new friends, Mike and the guys learn some new moves and shake off the past in surprising ways.
Ah yes, the "one last job" cliche. Just when he thinks he's out, etc. But what exactly has Mike been doing for the past three years? Well, this set photo from Tatum may provide a clue.
Haha first day of principal photography #MMXXL! pic.twitter.com/yfnyRNbf4d

— Channing Tatum (@channingtatum) September 29, 2014
Magic Mike XXL dances into theaters on July 1, 2015. Gregory Jacobs directs.