Thanks To 'Tusk', Kevin Smith Has Funding For 'Clerks III'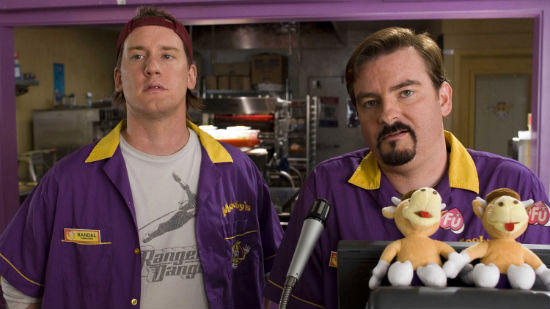 Like almost all Kevin Smith films, Tusk has been incredibly polarizing. I found myself in the middle of the road, seeing great promise in a film with some major problems. Some loved the audaciousness of Smith's horrific tale, while others just hated everything about it. Smith himself is very proud of Tusk, calling it the closest thing he's ever done to what he imagined he'd be making as a filmmaker.
The box office tended to agree with the haters. Over its opening weekend, Tusk only grossed on $1.4 million in over 600 theaters, pretty much guaranteeing a certain cult status.
The legacy of Tusk is already paying dividends, however. The project lead to a friendship between Smith and Johnny Depp, and spinning Tusk off into Yoga Hosers.  Plus, in a new podcast, the director also revealed Tusk gave financiers confidence to give him money for Clerks III.
Smith revealed the news on the latest episode of Hollywood Babble-On. The new comes about 12:40 in:
Here's the quote itself:
Tusk was the absolute bridge to Clerks III. Because of Tusk I got my financing for Clerks III. A year and change ago I was desperately trying to get Clerks III made for the 20th anniversary and that desperation — I must have reeked of it because I couldn't f–king find money and shit. But it was Tusk, people going 'Holy f–k, what else do you have?' and I was like Clerks III and they're like 'Done.' So, everybody that's like, 'He failed, he failed,' I'm like 'Thank you, I failed into Clerks III.'
He's referring to the fact The Weinstein Company, which has financed many of Smith's films, passed on the sequel a few months back. He then put it on the back burner to make a few other films.
On the podcast, Smith doesn't reveal who the new financier is, but The Wrap reminds us, last year, he said he'd hoped to start shooting in May. There's no word if the new financing has changed the timeline of his upcoming films but, odds are, audiences probably won't see the final adventures of Dante and Randall until 2016. The poetry there is Clerks III would be ten years after Clerks II.
Are you surprised Smith got the money for Clerks III?