Exclusive: Tom Whalen Draws 35 Pop Culture Busts For New Art Show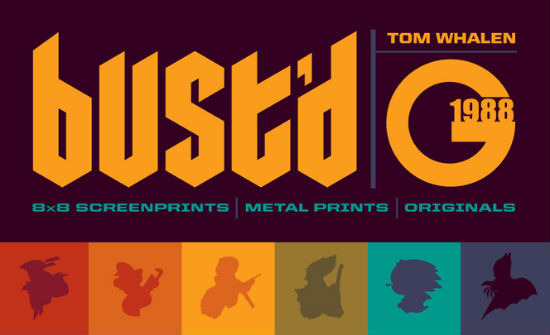 Philadelphia-based artist Tom Whalen just keeps getting bigger. But, for his latest show, everyone is getting smaller. Whalen is extremely well-known as one of the work horses for Mondo. If there's a Disney property being turned into a poster, Whalen is usually doing it. But he's also tackled such iconic films as RoboCop, Terminator 2, The Iron Giant and Army of Darkness this year alone. His bright, geometric style is recognizable and universal, leading to a steady rise in ppopularity
Even before that though, Whalen was working for Gallery 1988 and this week, they're giving him a solo show. It's called Bust'd and is comprised of 35 8x8 inch art prints showing the busts of character from all walks of pop culture. There are big, recognizable characters, fun supporting characters, characters from movies, video games, anime, there's something for everyone. Plus, the size and cost makes them incredible easy to frame and affordable for everyone.
We're excited to exclusively debut just a handful pieces that'll be in the show, which opens Friday October 3 at Gallery 1988 West in Los Angeles CA. Check them out below, along with more specifics.
Bust'd by Tom Whalen opens October 3 from 7-10 p.m. at Gallery 1988 West, 7308 Melrose Ave., Los Angeles, CA. It'll remain on display through the end of the month. Here are just a few of the pieces in the show.
In addition to the bite-size screenprints like the ones above (which will all be in editions of 75 and cost $20), Whalen will have some 1:1 editions on metal, sketches, and even some original paintings. Here's what the man himself said about the show.
Back in 2004, as a time-killer between day-job projects, I created a series of notecard-sized pop culture busts. Taking inspiration from comics, films, and TV, I took them to cons and sat them beside the 'zine my buddies and I were dutifully publishing. The busts quickly became my calling card and over the years, folks would visit my table to see what new characters I had illustrated.
Flash forward to 2013. When Gallery 1988 offered me a solo show, I realized that it had been almost ten (!) years since I started to create those original pieces. I saw the opportunity to create a fresh new series of busts that reflect my current style and serve as a throwback to my early work.
All pieces will be 8?x8? screenprints with low editions. there will be 1/1 metal editions available for some of the characters as well as the original sketches I used to create the prints. I'll also be bringing a few original pieces that I'm finishing as I speak.
So proud to finally start showing these guys off. hope to see you at the opening friday night.
All remaining Tom Whalen Bust'd pieces will go on sale Saturday on www.gallery1988.com.