Quentin Tarantino's First Wave Of New Beverly Programming Announced [UPDATED]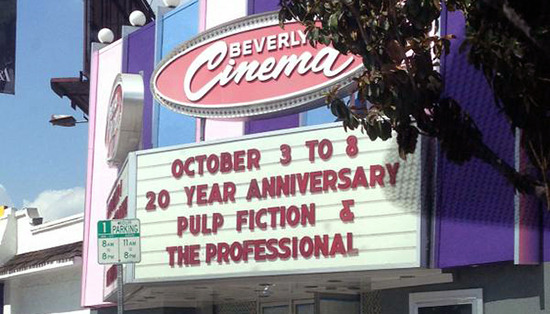 UPDATE: Tickets are now on sale for the Pulp Fiction/Professional double feature. 
Late summer left Los Angeles repertory fans scratching their heads as the long-running New Beverly Cinema abruptly closed for the month of September with the promise of renovations and new programming to come starting in October. As it turns out, Quentin Tarantino, who owns the theater building and has long provided financial backing to the New Bev, decided to take over programming the theater, ditching a recently-installed digital projector and committing to film-only projection. This week, the theater reopens and the first New Beverly programming under Tarantino's stewardship has been announced.
Variety has the first wave of programming, and notes that one thing hasn't changed: ticket prices remain set at $8 for a double-feature.
The theater will re-open on October 1 and 2 with a Paul Mazursky double-bill featuring Bob & Carol & Ted & Alice and Blume in Love. Then there will be a six-night run of Pulp Fiction and Luc Besson's The Professional, in celebration of the 20th anniversary of both films. (As shown on the current marquee, pictured above.) The projections will all be in 35mm.
October will also see the run of a Robin Williams double feature including The Best of Times and Moscow on the Hudson, and films from or featuring Sam Peckinpah, Bruce Lee, and George C. Scott, according to Variety. Halloween night will feature a marathon of six films presented by Eli Roth, with the director showing three of his films and three others. (Unfortunately, The Green Inferno will not be in that lineup. That's Roth's long-finished new film which was originally set for release in September before being delayed due to financial problems with Worldview Entertainment.)
One thing not yet addressed is the question over ownership of the New Beverly, as a business. While Tarantino owns the building and is therefore the New Beverly's landlord, the actual business belongs to the Torgan family. The precise details of Tarantino's new role in the business beyond being the programmer and landlord have been murky and remain unrevealed.
Header image via Germain.
Update: Here's an image of the full program for the month, which is not yet on the New Beverly's website. Thanks to Matthew Chernov on Twitter.