Sequel Bits: 'Dumb And Dumber To', 'Ted 2', 'Equalizer 2', 'Star Trek 3', 'Transformers 5'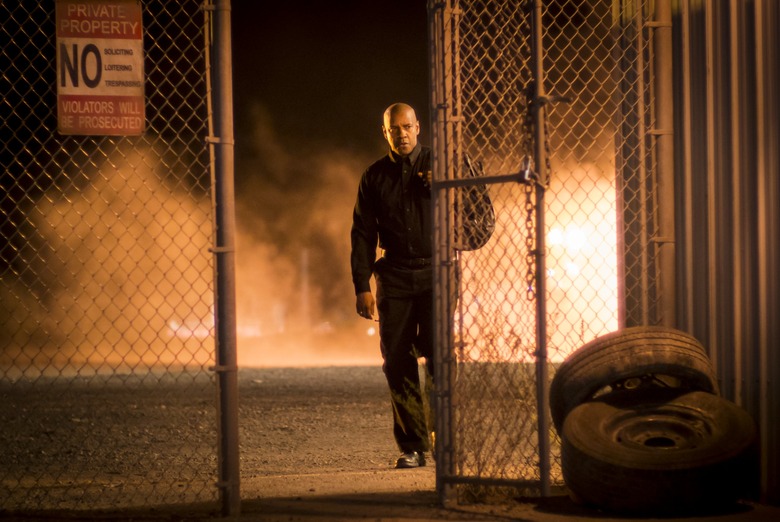 We present to you some sequel-related odds and ends to take you into the weekend. After the jump:
Liam Neeson and John Slattery will also be in Ted 2
Check out the first Dumb and Dumber To TV spot
Watch the new extended Alien: Isolation TV spot
Lindsay Lohan has an idea for a Mean Girls sequel
George Takei is not "lobbying" for a Star Trek 3 role
Ryan Hansen talks about his Veronica Mars spinoff
Peter Cullen wants Michael Bay for Transformers 5
Denzel Washington isn't confirmed for Equalizer 2
Jeremy Renner is excited for M:I5 and more Bourne
[HitFix]
Harry (Jeff Daniels) and Lloyd (Jim Carrey) are back to their usual stupid shenanigans in the first TV spot for Dumb and Dumber To. Most of the jokes are ones we've seen in earlier trailers (and some of those never seem to get old, somehow), but there are a few new bits scattered here and there.
[YouTube]
While we wait and see where Ridley Scott takes us with Prometheus 2, we'll get to dive back into that sci-fi universe with the video game Alien: Isolation, which follows Ellen Ripley's daughter Amanda. Watch the new extended TV spot below.
More than a few people have wondered about the possibility of a Mean Girls sequel over the years, but star Lindsay Lohan goes one further with an actual (informal) pitch. The odds of it actually getting made seem slim, but for what it's worth her idea doesn't sound half bad.
People really love the movie: how do you top that? I was with Tina Fey the other day and I said we should do another "Mean Girls", like an older version where they're all housewives and they're all cheating. That would be really funny. I'll harass Tina to write it.
George Takei would like the world to know he is not "lobbying" for a Star Trek movie role. But he also wants to make it clear that he wouldn't necessarily turn one down, either.
The word seems to have gotten out that I am lobbying for a role in the next Star Trek movie. But the truth of that is that I was asked in an interview by a journalist would I want to be in the next Star Trek film? What actor would not? So I said yes. So that person interpreted that and has been saying that I am enthusiastic and lobbying vigorously to be – so I am very careful with my word choice.
The Veronica Mars web series spinoff Play It Again, Dick has debuted its first couple of episodes and actor Ryan Hansen promises even more fun stuff coming up in future episodes. "Every time they were done shooting, I would dance with each person individually," he said. "Mark Pedowitz and Thom Sherman from CW, I would dance with them. There's this whole dance montage that's going to be pretty fun to watch." [Variety]
Michael Bay's insistence that he won't direct Transformers 5 may have at least one of his stars feeling disappointed. "I have a great deal of respect for him. [...] I would certainly miss him," said Peter Cullen (who voices Optimus Prime). ""Michael if you're [reading] this, I certainly hope you are coming back." [Cinema Blend]
This weekend's The Equalizer has the potential to launch a whole new action franchise for Denzel Washington, but the actor is wary of getting ahead of himself. "I've been asked before to do a sequel but look, the audience is first, the offer is second and the script is next — it depends on the material," he said. "If it's not on the page I'm not doing it." [Yahoo / Sky News]
Rumors that Jeremy Renner would replace Tom Cruise as the face of the Mission: Impossible franchise haven't panned out. However, Renner doesn't seem to mind. "Tom [Cruise] knows what he's doing in that world and I'm just there to sort of follow along and bring what I can bring to every moment," he said.
Meanwhile, Renner did replace Matt Damon as the Bourne series lead, but now he says it's his "hope" and "dream" to see Aaron Cross and Jason Bourne together. "We're still working on the Aaron Cross section of that and the worlds will definitely — hopefully — collide and they're still a part of each other," he teased. [Access Hollywood via Screen Rant]