Paul Thomas Anderson Has Completely Changed The 'Inherent Vice' Ending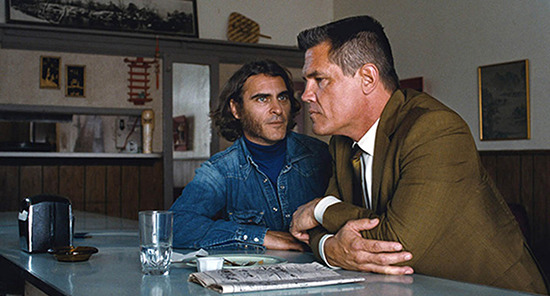 There's been a lot of back and forth over whether David Fincher changed Gillian Flynn's Gone Girl ending, but maybe all this time we should have been fretting over a different auteur-driven literary adaptation. Paul Thomas Anderson has reportedly written an entirely new conclusion for Inherent Vice, based on Thomas Pynchon's novel.
Not that Pynchon seems all that upset about it. Indeed, the famously reclusive author even agreed to a cameo in the movie — though he's so private it's quite possible no one will even recognize him anyway. Hit the jump for tons more from Inherent Vice, including a new photo of Joaquin Phoenix and Benicio del Toro and details on how Police Squad! served as an inspiration for Anderson.
Anderson makes no secret of his love for Pynchon's work, gushing at one point, "The only thing better than reading Pynchon is rereading Pynchon." Still, in translating the book for the screen, he had to make a few changes. Among them are an amplified role for Sortilège, an "earth-goddess-like pal" of Doc's played by Joanna Newsom, who essentially serves as the story's narrator.
He also, according to the paper, scripted an "outrageous" new ending that significantly strays from the source material. Phoenix suggests, however, that the alterations were made with Pynchon's blessing. "I know that they talked a lot," said the actor. "It was pretty amazing, because it seemed like he was very active in the process through Paul. It seemed like they talked often and he would make suggestions or talk about how to condense three scenes into one."
As with the cameo, Anderson himself would neither confirm nor deny. "Joaquin doesn't know what he's talking about anyway!" he said.
The director was more forthcoming about some of his influences, including classic noirs like The Long Goodbye and The Big Sleep and detective writers like Raymond Chandler and Dashiell Hammet. But to mimic the humor of Pynchon's book, which is crammed full of jokes on every page, Anderson turned to a more unexpected source of inspiration.
I thought, 'What's something I've seen that can get close to that amount of great visual information and all these things going on in the frame?'  Police Squad! and Top Secret! are what I clued into. We tried hard to imitate or rip off the Zucker brothers' style of gags so the film can feel like the book feels: just packed with stuff. And fun.
Inherent Vice debuts at the New York Film Festival next weekend and then hits theaters December 12. Get a new look at Brolin and Phoenix in the film below.