'Shrew's Nest' Trailer: Dark And Bloody Terrific Family Horror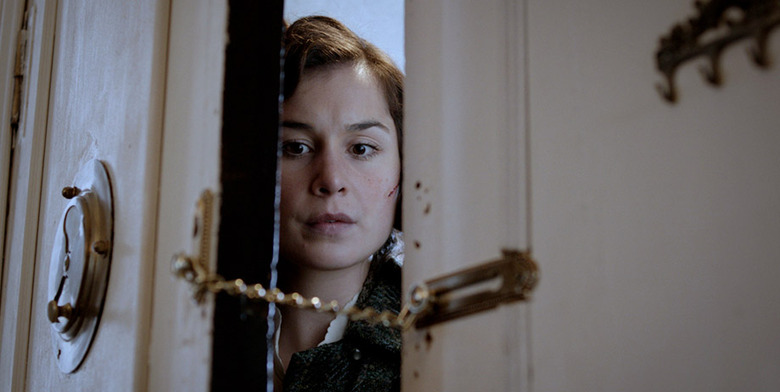 Fantastic Fest seems to have a bit less horror each year as the festival's scope expands. At the same time, the horror at the fest is often pretty great. Take Shrew's Nest (aka Musarañas), a Spanish film that is essentially gothic family drama... until it goes totally mental. I loved this movie in part because it is really nicely controlled until it goes bonkers, and also because it features one hell of a great lead performance from Macarena Gómez.
Gomez plays Montse, a woman who hasn't left her apartment in many years. Some bad stuff in her family's past left her damaged, and she simultaneously cares for and domineers over her younger sister. When a new presence enters the apartment, old tensions come to a very intense boil. Check out a Shrew's Nest trailer below, and put this one on your radar now.
So here's the thing about this trailer. It's not that it spoils everything, but it underlines one point in a way that isn't great, and it definitely throws out more 3rd act shots than I'd like. I had the benefit of going into the movie cold, and I'd love if most of you could do the same. But at the same time I want people to know this film exists.
So I'd advise watching just the first minute of this trailer, which will get some things across, but not give away too much. If you get to the "Home Sweet Home" cards, I'd say you're done. (Or watch the whole thing if you want, and I'm sure the film will still play like gangbusters, because it is good.)
Co-directors Esteban Roel and Juanfer Andrés can take credit for the movie, which was produced by Álex de la Iglesia.
This description comes from Fantastic Fest. We don't have any US release info for Shrew's Nest, but I hope we get it soon. The film will play a couple screenings at the BFI London Film Festival starting on October 8.
Montse has had a rough life. Her mother died while giving birth to her sister and her father disappeared during the war. She's raised her younger sister on her own, a task complicated by her extreme agoraphobia. Montse never leaves the apartment, but works as a seamstress for clients that come to her. Combined with her sister's work at a local store, they just manage to squeak out a living. But the girl is curious and she has questions about their past that Montse can't or won't answer.
Montse's agoraphobia is tested when their upstairs neighbor falls down the stairs and lands just outside their front door. Montse decides to help him, bringing him into the apartment and propping him up in bed. But it quickly becomes apparent that Montse has an agenda of her own, and while it may endanger everyone involved, the girl may just get the answers to the questions she's had for so long.