'Blackhat' Trailer: Michael Mann Returns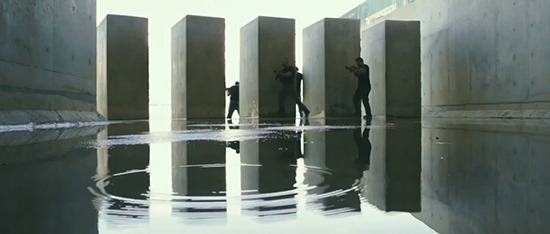 After five years away from the feature scene, Michael Mann returns with Blackhat, a "cyber-thriller" that casts Chris Hemsworth as a hacker recruited to ferret out a ring of criminals who use computer networks to accomplish high-level goals. Hemsworth puts his "American guy" accent to use, and Mann also employs a solid supporting cast including Viola Davis, Holt McCallany, Wei Tang and Leehom Wang. And we're always willing to see how another filmmaker can visualize the not-so-exciting act of hacking. Check out the Blackhat trailer below.
There are some signature Mann touches in this trailer, and final shots of that firefight are promising. But without Mann's name on the label this trailer would seem pretty routine. Mann's strength isn't in big-time arresting visuals, however, but rather in characterization and a commitment to following through on paths he sets up for those characters. That's stuff that doesn't come across very well in trailers, so we're looking forward to seeing how Blackhat plays out.
Blackhat also . It opens on January 16, 2015. Trailer via Apple.
Set within the world of global cybercrime, Legendary's BLACKHAT follows a furloughed convict and his American and Chinese partners as they hunt a high-level cybercrime network from Chicago to Los Angeles to Hong Kong to Jakarta.  Directed and produced by Michael Mann, the film stars Chris Hemsworth, Viola Davis, Tang Wei and Wang Leehom, and it is written by Morgan Davis Foehl and Mann.  Legendary's Thomas Tull and Jon Jashni produce alongside Mann, while Alex Garcia and Eric McLeod serve as the executive producers.