See Christopher Walken As Captain Hook In Peter Pan Live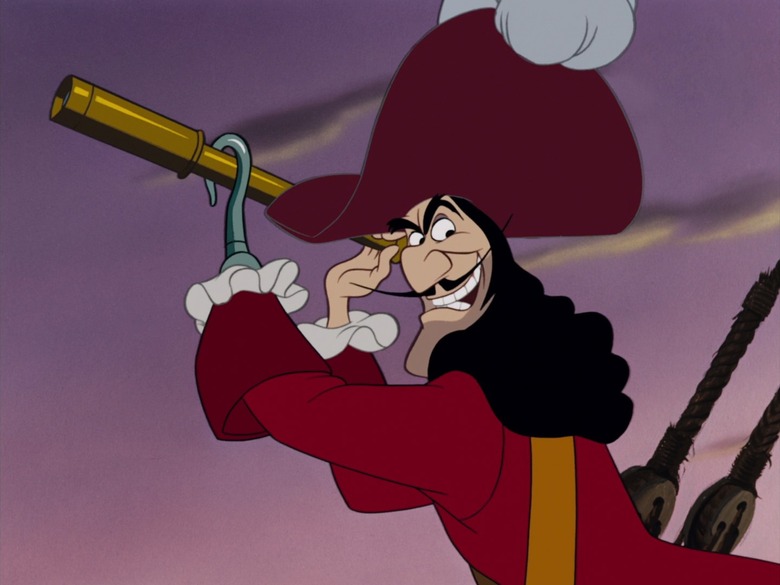 We've already seen what Girls star Allison Williams will look like as the ultimate Lost Boy in Peter Pan Live! on NBC. Now we get to take a peek at her foe.
Producer Neil Meron has unveiled the first look at Christopher Walken as Peter Pan Live!'s Captain Hook. And it's good that we already know it's Walken under there, because we might not have been able to recognize him otherwise. See the Christopher Walken Captain Hook after the jump.
wow!!!! #allisonwilliams #chriswalken @craigzadan @broadwayworld #PeterPanLive Dec. 4 pic.twitter.com/mzObXroj1i

— Neil Meron (@neilmeron) September 24, 2014
Between the flashy clothing, giant wig, and heavy eyeshadow, we really have to take Meron and NBC's word for it that this is a picture of Walken. Williams, on the other hand, looks just like she did in that last Peter Pan Live! publicity still. Which is unfortunate, because that outfit still comes across like a bizarre mix of "bike messenger" and "club kid." At least Walken's looks like an actual costume.
When Walken's casting was first announced, NBC Entertainment chairman Robert Greenblatt gushed that Walken would "bring his own spin to Captain Hook." So far he doesn't look so different the Disney version we already know and love, but presumably he'll get to show off more of his eccentric personality during the actual show.
Hopefully he'll bring his moves as well. Greenblatt said at the time that Walken "might be the first tap-dancing Captain Hook," and we already know the actor loves musicals. He starred in 1981's Pennies From Heaven and 2007's Hairspray and, more recently, Clint Eastwood's Jersey Boys. And let's not forget his awesome performance in Fatboy Slim's "Weapon of Choice" music video.
Peter Pan Live! will air December 4, almost exactly one year after Sound of Music Live! proved to NBC that live TV musicals are ratings gold. Kelli O'Hara, Christian Borle, Taylor Louderman, and Alanna Saunders will also star.