First Look At Nicolas Cage In 'Dying Of The Light,' Producers Take Over Final Cut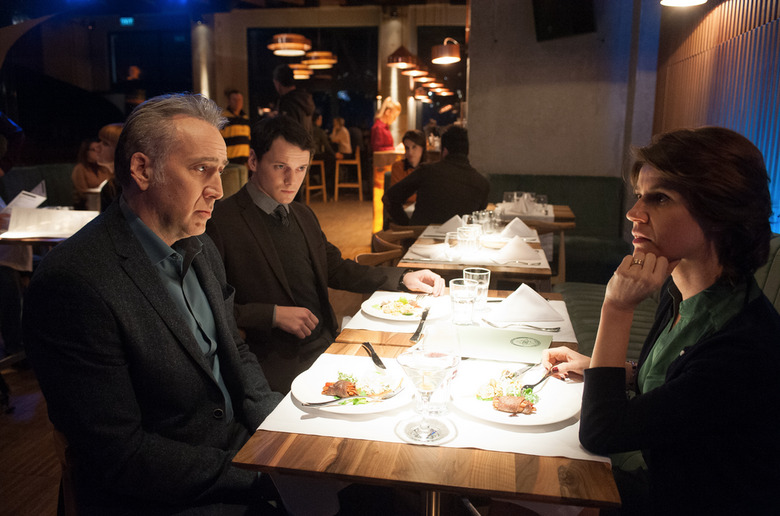 That shot above is the first look at Nicolas Cage, Anton Yelchin and Irène Jacob in the new Paul Schrader film, Dying of the Light. Cage plays a CIA agent whose vision is failing as he undertakes his final mission.
Schrader scripted the movie in 2010, and it was once set to be directed by Nicolas Winding Refn. After Refn's plan to make the film with Harrison Ford failed due to creative differences between director and star, Refn stepped back to a producer role while Schrader took the director's chair. Along with this image comes some controversy about the film's cut, and the departure of Schrader, which you can read more about below.
Variety has provided the image, and reports on the differences in vision between Schrader and producers  to Todd Williams and Gary Hirsch. Williams says that Schrader's first delivered cut "deviated substantially from his own script," and that "it was a completely different movie from the movie that was greenlit, the movie that was discussed and the movie that was shot."
The producers gave notes, Schrader returned to the editing room, and ultimately delivered a second cut they say was only slightly different. According to them, Schrader quit the film at that point, and they found a new editor to implement their notes, and used a score from composer Frederik Wiedmann.
Schrader says he was locked out by the producers, saying "I was never asked back. They finally showed me their cut only as they were entering final post-production. It was a fait accompli." According to the director, his contract forbids going into detail on the situation.
The producers say the two cuts are "80 percent" identical, with no additional shooting and changes made to implement " tightened pacing, the recutting of several action scenes, and the removal of a voiceover narration." Variety quotes one source saying the producers' cut is more conventional, and Refn calls the editing process "artistic disrespect."
Dying of the Light does not have a set release date at this point, but when it does arrive, chances are that we'll see the producers' cut, rather than Schrader's version.