New 'Interstellar' Images With Matthew McConaughey, Casey Affleck, And More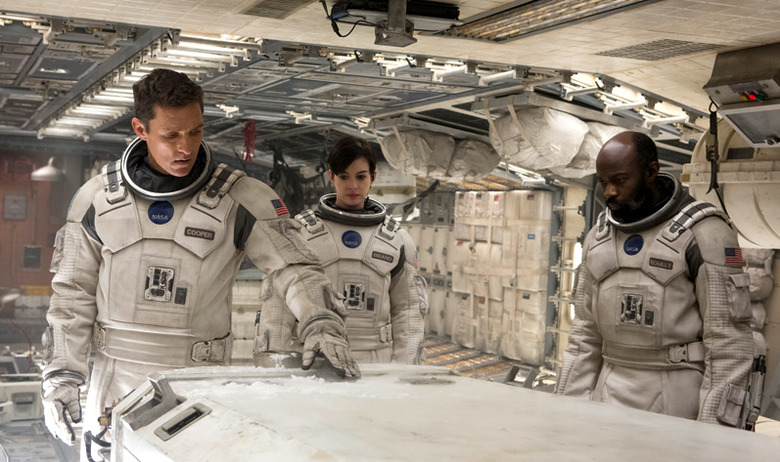 There are only about three months left in 2014 at this point, but those three months look to be absolutely jam-packed with exciting new movies. One we're particularly looking forward to is Christopher Nolan's Interstellar, which shoots Matthew McConaughey into outer space in a last, desperate attempt to save humanity.
As Nolan himself points out, that makes it "almost a mirror image of Inception. It expands out in the way Inception contracts inwards." Read more comments from Nolan and his cast, and see new Interstellar images of McConaughey, Anne Hathaway, Casey Affleck, Jessica Chastain, and David Gyasi after the jump.
Despite the film's futuristic premise, Nolan sees Interstellar as old-school in some ways. "It's a very classically constructed movie, but the freshness of the narrative elements really enhance it," he told the magazine (via Coming Soon). "I liken it to the blockbusters I grew up with as a kid, family films in the best sense: edgy, incisive, challenging."
And ambitious, according to McConaughey. "This is the grandest adventure I think any of us will ever see on film," said the star. "This is the biggest film I've ever been a part of. This is one of the biggest films anyone's ever been a part of."
At the same time, Hathaway insists, Nolan hasn't lost sight of the human angle. "It's not a dry, science-based film. It has a pulse. It's got blood in its veins," she said. Nolan tends to be a cold director, so if Interstellar is more emotional than most of his works (and the marketing so for suggests it is), Interstellar could be new territory for him in that sense.
Interstellar arrives in theaters November 7. Also starring are Ellen Burstyn, Bill Irwin, David Oyelowo, Wes Bentley, Michael Caine, and John Lithgow.
Interstellar chronicles the adventures of a group of explorers who make use of a newly discovered wormhole to surpass the limitations on human space travel and conquer the vast distances involved in an interstellar voyage.