'Kingsman: The Secret Service' Trailer: The Most Dangerous Job Interview In The World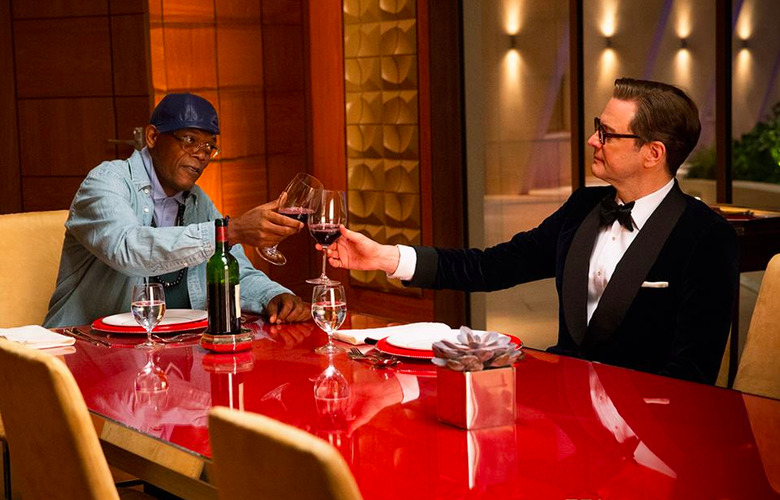 After the success of Kick-Ass, director Matthew Vaughn and Mark Millar are teaming up again for another action-packed comic book movie. Kingsman: The Secret Service stars Colin Firth as an ultra-competent spy who recruits a troubled but talented street kid (Taron Egerton) for his top-secret organization.
Like Kick-Ass, Kingsman: The Secret Service takes on familiar genre tropes with wit and verve. We've seen well-dressed, well-mannered James Bond figures before, but probably never quite like this. Hit the jump to watch the new Kingsman The Secret Service trailer. It also features a new Iggy Azalea and Ellie Goulding track, if that's your thing.
Much of the footage is the same stuff shown at Comic-Con, CinemaCon, and WonderCon, but hey, it still looks really good. Well — aside from that one weird moment at the end where one of the characters clearly has a CG face. Maybe that's explained in the movie.
Meanwhile, Millar continues to prove about as popular with Hollywood as any comic creator can be that isn't called "Marvel" or "DC." There are adaptations of his books Starlight, Superior, MPH, Nemesis, and Kindergarten Heroes all currently in various stages of development. And of course, he's already seen his books Kick-Ass and Wanted turned into movies.
Kingsman: The Secret Service opens February 13, 2015. Also starring are Samuel L. Jackson as the villain, Michael Caine as the head of the spy organization, Mark Strong as another Kingsman officer, and Mark Hamill as some guy not named Mark Hamill.
Based upon the acclaimed comic book and directed by Matthew Vaughn (Kick Ass, X-Men First Class), Kingsman: The Secret Service tells the story of a super-secret spy organization that recruits an unrefined but promising street kid into the agency's ultra-competitive training program just as a global threat emerges from a twisted tech genius.