Michael K. Williams Wants 'Black Panther', Idris Elba Won't Be 'Luke Cage'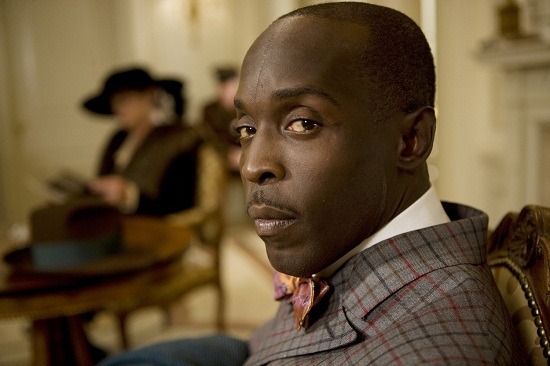 The Marvel Cinematic Universe is a really big one, containing more talented actors than we can count. But it's only getting bigger, and that means there's still room for other exciting additions. Like, Michael K. Williams hopes, Michael K. Williams. The Wire star confessed his desire to play Black Panther in a recent interview.
Meanwhile, another The Wire alum, Idris Elba, is stomping out rumors that he may play Luke Cage in the planned Netflix series. In fact, according to him, the role has already been cast with someone else. Hit the jump for more on the Michael K Williams Black Panther hopes and the Idris Elba Luke Cage denials.
Speaking with Cinema Blend, Williams revealed that he "definitely" had his eye on Black Panther. He stressed that he hasn't been approached quite yet, but sounded optimistic. "I'm saying 'yet' with a lot of emphasis. But hopefully I'm looking forward to being apart of the franchise," he said. He later added, "I would definitely bring that quintessential New York City edge. You know, just a little bit of that grit."
Williams admitted that Black Panther wasn't exactly his favorite growing up. "I'm a little more old school. I was into Superman, Batman, Spider-Man. My three top favorites by far. And then you know Wonder Woman, Aquaman — you know that's my world. That's my childhood." Still, he says, he's "excited about the opportunity" to lead a big superhero blockbuster.
Even as Williams tries to start his own Marvel casting rumors, though, Elba is trying to put shut some down. Although he has previously confirmed that he met with Marvel about the Luke Cage role, he says he's definitely not starring in the upcoming TV series. "Uh, I think there's an actor already signed on for it, fortunately or unfortunately," he said in a Reddit AMA. Sadly, he did not name exactly which actor would be taking the part.
And while he's at it, Elba would also like people to know he's not in Guy Ritchie's Knights of the Roundtable: King Arthur either, contrary to earlier reports. "That was a rumor, that wasn't true unfortunately," he said. Of course, actors have been known to lie about this kind of stuff before, so maybe there's more to this story than Elba wants to let on.
He is, however, very happy to talk up his enthusiasm for James Bond, again. "Yes, if it was offered to me, absolutely," he said when asked whether he'd like to play 007 someday.
In the meantime, those how are simply dying to see The Wire cast back together can turn their attention to Finding Dory, of all places. Elba and Dominic West are both set to lend their voices to the Pixar sequel.